Welcome to The Twelve Days of Christmas at Alpha Stamps, where our amazing Design Team will share festive, colorful, odd, handmade holiday creations for 12 straight days! And in our normal, quirky fashion, we've each interpreted the lyrics of The Twelve Days of Christmas as we see fit (more on that as the event proceeds… trust me, you'll be amused).
And there will be Giveaways, sales, and of course: tutorials from the Design Team on all their beautiful creations!
And (yes, there's more!) the Design Team and a crew of Guest Designers have designed ATCs for all 12 days (in case you've a bit daunted by some of the more industrious projects the Design Team have concocted — or you're just pressed for time so close to Christmas — you can still gather some ideas for smaller artworks). (That adorable 9 Prancing Pachyderms ATC for Day 9, at left, is by Guest Designer Mareth Cordell. The elephants pivot on brads so they can really prance!)
And there's a new Gallery to show off all The Twelve Days of Christmas ATCs… and it'll be filling up with artwork during the event.
And just wait until this weekend: There's a special project for housing your ATCs (if you make a complete set for The Twelve Days of Christmas or if you just need a fancy container for giftgiving).
New! December 12th: 12 Frolicking Frenchies by Design Team Member Shannon Tuttle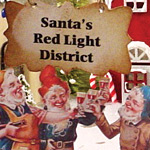 December 11th: 11 Elves A Pimpin' by Guest Designer Lynn Stevens!
December 10th: Ten Feline Fashionistas Festively Festooned by Guest Designer Teri Calia!
December 9th: Nine Nymphs by Design Team Member Rhea Freitag!
December 8th: Eight Prima Donnas by New! Design Team Member Lora Mahaffey!
December 7th: 7 Naughty Children and 7 Perfect Angels by Design Team Member Rhonda Secrist Thomas!

December 6th: 6 Geese a'Laying by Design Team Member Nichola Battilana!
December 5th BONUS: Five Golden Rings by Guest Designer Becky Nunn!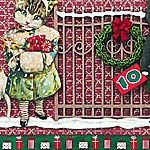 December 5th: Five Geishas Blushing by Design Team Member Laura Carson!
December 4th: Four Calling Birds Mini-Envelope Book by New! Design Team Member Kira Nichols!
December 3rd: Three Kids a'Gifting by Design Team Member Kristin Batsel!
December 2nd: Two Turtle Dove Houses by Design Team Member Nichola Battilana!
December 1st: a gorgeous Antique Gold Pear Tree by Design Team Member Caroline Ouzts-Hay!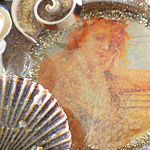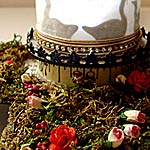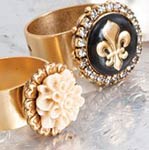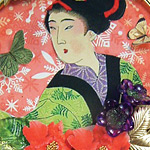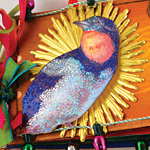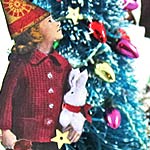 Posted by Leslie, December 1st, 2012