Hey, it's Day 3 of the 4-day "Black Friday" sale and what a treat is in store for you today! Today's theme is The Toy Shoppe with a tutorial by Design Team Member Laura Carson!
I am continually amazed by the amount of colorful, holiday festiveness Laura can fit into such a tiny space! (The Domino, that is mostly hidden under filigree on that book cover at right, is only 2″ tall!) And Laura gives lots of tips in her tutorial, like how to hinge the Fancy Gothic Windows together accordion-style. And I love the little red coats she painted on those Nutcracker Charms!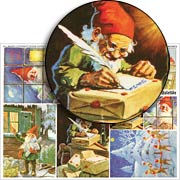 And because it's Thanksgiving weekend, ALL of the gasp Christmas Collage Sheets have just been put On Sale! But catch 'em quick: the sale ends Monday night!
If you order today (November 25, 2012) you'll automatically be entered in the drawing for EVERYTHING Laura used from Alpha Stamps in her Toy Shoppe Domino Book (that's a huge group of goodies… scroll down below the new product photos for a tiny preview)! More info on the rules for the drawing (and all the gifts & freebies going on during the sale) is here.
And congratulations to the winners of our daily Black Friday Sale Giveaways thus far:
Mamie Jeadon
Alice Hancock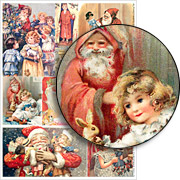 Free gift for every order over $25! The Christmas Dolls Collage Sheet, shown at left, will be included as a gift for every order over $25 on Sunday, November 25, 2012! No need to add anything to your cart — all orders over $25 (before tax or shipping) placed November 25, 2012 will receive the Christmas Dolls Collage Sheet (printed on cardstock).
Don't forget, yesterday's UTEE-Dipped Roses Theme items (and ALL Paper Flowers and Spring & Summer Flowers Collage Sheets) AND Friday's "Yours Truly" Theme items (and Art Nouveau/Pre-Raphaelite Collage Sheets) are still On Sale! But remember: the sale ends Monday night!
OK… prepare yourselves… on to Laura's Toy Shoppe Tutorial.

Posted by Leslie, November 25th, 2012