Drum roll please… the winner of the Black Friday Sale Day 1 Giveaway is Mamie Jeadon!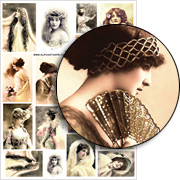 Thank you to everyone else who placed an order (aka: who entered the drawing) on Friday — and there's still time to enter today's Giveaway.
Also, don't forget the Special Notices mailing list (to be notified when contests, giveaways or swaps announced). If you already receive the newsletter, after you enter your email address you'll get instructions on updating your profile to include the second mailing list.
thanks,
Leslie
Posted by Leslie, November 24th, 2012