Hey, it's Saturday of the 4-day "Black Friday" sale! Today's theme is Flowers.
Wow, take a look at these gorgeous paper roses and super-duper-adorable New Owl Charms that Design Team Member Rhea Freitag has created! OK, Rhea didn't exactly create the paper roses (or the charms) themselves, but she did enhance them into their gorgeousness with New UTEE (Ultra Thick Embossing Enamel)! Scroll down to see more eye candy!
And because it's Thanksgiving weekend, ALL of the Paper Flowers (and the Spring & Summer Flowers Collage Sheets for good measure!) have just been put On Sale! But catch 'em quick: the sale ends Monday night!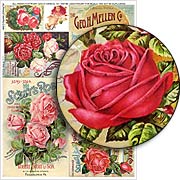 If you order today (November 24, 2012) you'll automatically be entered in the drawing for a New and On Sale! Melting Pot (essential for dipping those paper roses)! More info on the rules for the drawing (and all the gifts & freebies going on during the sale) is here.
Free gift for every order over $25! The Pink Roses Collage Sheet, shown at right, will be included as a gift for every order over $25 on Saturday, November 24, 2012! No need to add anything to your cart — all orders over $25 (before tax or shipping) placed November 24, 2012 will receive the Pink Roses Collage Sheet (printed on cardstock).
And, don't forget, yesterday's "Yours Truly" items (and collage sheets) are still On Sale!
Here's a short intro by Rhea on her UTEE-dipped roses.
One item I have fallen in love with are Paper Flowers. I recently took these little guys to another level with the help of a Melting Pot and UTEE (Ultra Thick Embossing Enamel).

My favorite are the 1/2″ Red Paper Roses. I think they almost look like glass now that they are coated. I bet you could take them a step further and add a bit of Gilders Paste and add more depth now that I think about it… Another trick I used on the red ones was to pull some of the petals back before dipping them. This helped them to have some unique shapes.

Then again, my recent experiments with the (thicker mulberry paper) Mixed Pink Roses have led to some pretty results, too…
For more info on the roses, hop on over to Rhea's blog. More info on her technique for those bronze owls yet to come.

Posted by MizBella, November 24th, 2012