Amy Mayfield, Alabama USA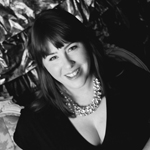 I have played at art for as long as I can remember from projects with my mom to taking classes at the local museum when I could barely stand. There are few things that relax me like creating something. I earned a degree in Communications and English in college and after years as a corporate event planner, I returned to my first love of writing as a newspaper columnist. In addition to my normal columns, I often do features about fashion, holiday decorating and crafting.
I enjoy working with paper to create three-dimensional shadow boxes, shrines and trinkets–tossing in odds and ends and mixed media here and there. And sparkly is definitely my favorite color. It's not unusual for me to leave a trail of glitter in my wake and I often joke that the words "I can do that" are the most terror-inducing ones uttered in my house– frequently sending my husband fleeing to the "carhole" or his office. I'm always talking about something or other that I'm "glitterizing." But I live and create by the sentiment that pretty doesn't have to be perfect.
I am incredibly excited to be an Alpha Stamps Design Team Member. The quality and selection of offerings is sometimes delightfully dizzying and the customer service is without compare.
I'm married to J and have a wonderful daughter who loves to create and paper play as much as I do.
Check out Amy's blog

Posted by MizBella, October 1st, 2012