Note: most of the links on this post no longer work, as we moved to a new Web site in 2018. But you can try searching on the same names (as links below) on the new site.
Alpha Stamps Design Team Member Rhea Freitag has created a stunning Gypsy bracelet! Not for someone who doesn't want to get noticed, this bracelet is for those who think that more is definitely better than not!
Hey, check out How to Make a Dangle, also by Rhea, and learn about the 4th of July Bead Sale!
Rhea's bracelet is chock-full of gorgeous charms that make you want to hang out with Johnny Depp in his Gypsy wagon and get your Gypsy on (or taken off). Poppets! Who said that?! Really, now you have gotten me to digress.
Some of my favorite pieces are the Man In The Moon and the Moon Face Charms, Etched Star Charms, and the Teapot (because what's a Gypsy without her magical tea?)!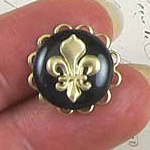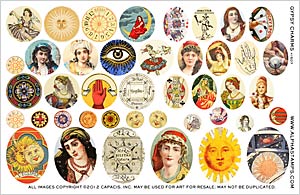 Did you see the New Flat Lace Edge Settings? Swoon! I can't wait to get my hands on some of those! How about the New + On Sale! Amber Gypsy Bead Mix, the On Sale French Icon Cabochons and images from the New Gypsy Charms Mini Collage Sheet? I can't stand it and will have to make my own Gypsy bracelet now!
Other elements I am loving are the Gilders Paste for added color, and also that Rhea aged some of the charms with my very favorite, Liver of Sulphur Gel. While it does not smell like a bed of roses, and is sure to clear out all of my Oompa Loompas from my work area in 10 seconds flat — it's also the best product to use for aging raw brass. Helpful hint: Be sure to not go anywhere immediately after using the product. You may think that the Liver of Sulphur stink is not on you because you wore gloves when using it. You must change your clothes! I can tell you this from experience that you do smell to high heaven and will get strange looks from people in the grocery store. True story!
This is a very fun bracelet to create and it all starts with a Textured Cable Chain. With all of the Collage Sheets and Jewelry Findings that Alpha Stamps has, just imagine the stories that you could tell by making one!
Here's a few more ingredients not mentioned above: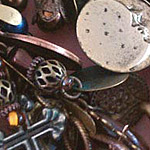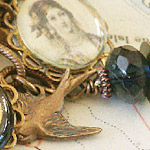 – New 14mm Adhesive Epoxy Domes (better in this instance than the glass cabs as the epoxy are less domed so won't distort images as much)
– New 5mm Coil Rondelles
– New + On Sale! Montana Blue Faceted Rondelles (shown at right)
– Embossed Flower Charms
– Vintage Brass Cross Charms
– Small Brass Swallow Charms
– 7mm Bead Caps
– On Sale! 6mm Filigree Beads (shown at far right)
– Brass Heart Charm with Embossed Scroll
And here's a link to more photos of this glorious bracelet in the Gallery.
Posted by MizBella, July 1st, 2012