Note: most of the links on this post no longer work, as we moved to a new Web site in 2018. But you can try searching on the same names (as links below) on the new site.
UPDATED: see the Alice in Wonderland Gallery for more Alice in Wonderland art samples by The Altered Alice Design Team (and ours!).
Psst… there are way more Alice galleries; see the:
– Alice's Tea Party Swap Gallery
– The Mad Hatter's Tea Party Ginormous Tag Swap
– Alice in Wonderland ATC Swap hosted by Lenna Andrews
We're sponsoring the Month of May Challenge at The Altered Alice and in honor of the challenge (and to lure you into entering a project) the ENTIRE Alice in Wonderland/Tea Party Theme is On Sale! (That's HUGE and includes stamps, ALL the Alice collage sheets – including paper dolls – some ribbons, flowers, charms… anything you can image using for a tea party… you'd better go check it out!)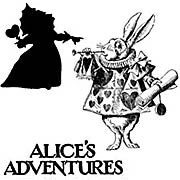 The Design Team at The Altered Alice received the Alice's Adventures Rubber Stamp Set and they've created some really fun artwork! The tag at far right is by Tracy Evans.
Now, to some new Alice-inspired goodies I created (or sourced) in honor of the Challenge…

Alice in Wonderland Tea Time ATC Kit: A cute (and colorful) little kit with lots of options for The Mad Hatter's tea party. See the sample ATCs at left made by Teri Calia using this kit (for ideas only; the finished ATCs are not included in the kit).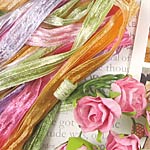 Teri also added some glitter accents with Diamond Stickles and gave the paper cut-outs some dimension by using Sticky Thumb Dimensional Foam (the dimensional foam is also On Sale!).

A Large Blue Caterpillar ATCs Collage Sheet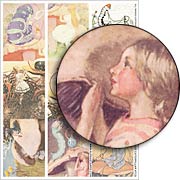 Shown at right; a new collage sheet in honor of the Altered Alice Challenge.
The following is from Alice's Adventures Under Ground (afterward
developed into "Alice's Adventures in Wonderland"):
She stretched herself up on tiptoe, and peeped over the edge of the
mushroom, and her eyes immediately met those of a large blue
caterpillar, which was sitting with its arms folded, quietly smoking a
long hookah, and taking not the least notice of her or of anything else.
Posted by Leslie, May 9th, 2012