Note: most of the links on this post no longer work, as we moved to a new Web site in 2018. But you can try searching on the same names (as links below) on the new site.
It's a nice time of year, when new things are arriving from the Winter trade shows and UPS deliveries are like visits from Santa.
Before I tell you about Design Team Member Laura Carson's beautiful hinged canvas book, at right and below (and tutorial… really… hasn't Laura been on a roll lately?), don't forget to stroll down the length of this newsletter to see back in stock items and new 99 Cent Sale Stamps.
That clever Laura hinged two 6″ x 6″ pre-stretched canvases together to make a book form for a beautiful Cléo de Mérode shrine. And she used the negative spaces on the inside of her hinged "pages" (on the back of each canvas) as little niches, like the close-up at left with the Antique Pen Nib and Mini Inkwell Bottle.
And throughout her project, she used papers from the new French Kiss 6×6 Paper Pad (heavily distressed using stamps, paint, and Picket Fence Crackle Paint).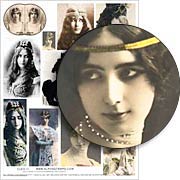 In honor of Laura's art (and all these luscious new French papers), the entire Tallulah's Collage Sheets Section has been put on sale! Beside the luminous Cleo, there are other beauties like Caroline Otero and Lina Cavalieri to choose from.Note: both the Tallulah's Collage Sheets and French Vintage Theme section sales are for 1 week only (ending Saturday, March 3rd).

Posted by Leslie, February 29th, 2012