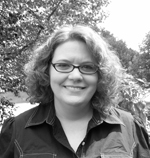 Amy Rozeboom, Missouri, USA
I'm a mixed media artist, primarily working on paper crafts but I also create assemblage/shrine type pieces. I'm strongly influenced by Mexican folk art and the works of Michael DeMeng, Kathy Cano-Murillo, Carol Owen, Joseph Cornell, Lynne Perrella, Teesha Moore, Dave McKean … the list goes on and on.
My mom was an artist and I grew up at her elbow, watching her create a variety of wonderful things while she taught classes at local craft shop here in St. Louis. She would take me to work with her and let me pick out a craft to work on while she taught. She had to keep an eye on me though, because I was known to sneak over to the aisle with the kneaded erasers and gnaw on them through the wrapper, leaving tiny little teeth marks behind!
I've always been crafty but started to really get into a groove about 6 years ago, while planning my Day of the Dead themed wedding. While tooling around online, I found Craftster.org and it was like a fog lifted. I had never found a place with so many like-minded, crafty people! I've been an active member there since 2004 and was recently chosen as the "Craftster Crush." During my search for online supplies I found Alpha Stamps in 2007, and I was also an Alpha Stamps Guest Designer in February 2008.
Visit Amy's blog Amaryllisroze.
See some examples of Amy's artwork.

Posted by MizBella, February 29th, 2012