Note: most of the links on this post no longer work, as we moved to a new Web site in 2018. But you can try searching on the same names (as links below) on the new site.
Alpha Stamps is celebrating its 7th Anniversary with a 7 Deadly Sins ATC Contest! Greed, Gluttony, Envy, Sloth, Pride, Wrath, and Lust. Oooh isn't that a most delicious theme with endless possibilities? Personally I think that there should be 8 Deadly Sins, as Vanity is my most favorite. Oh wait, but then there is Decadence and that is a favorite too – but I digress!
And the winner will receive $100 Shopping Spree at Alpha Stamps!
There are only three steps to enter the contest!
– Step One:
Like us on Facebook! Not only will you be able to participate in this contest, but you'll also join our fabulous community of artists! Get the latest Alpha Stamps news, product previews, and exclusive deals for our Facebook Fans right in your news feed.
– Step Two (a):
Use any of the images (31 collage sheets and/or 7 rubber stamps) highlighted on this very blog post (and they're all on sale!) and create an ATC with your interpretation of one (or more) of the 7 deadly sins (maximum of 3 entries per person). Don't want to wait for the mailman to deliver your goodies? Digital download of collage sheets is available!
– Step Two (b):
Submit a jpeg of your ATC on the Facebook Contest Page (so easy: nothing to mail!).
– Step Three:
Share with your friends! When you upload a jpeg you'll get the chance to share your post on your own Facebook Wall. Even if you don't submit an entry, just click the Invite Friends Tab on the contest page and you can share the contest with up to 6 friends.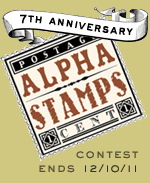 Entry date deadline: 11:59 p.m. PST, December 10, 2011
The winner will be picked by you! Vote from December 11 to 17. Winner to be announced on December 18.
7 Deadly Sins Collage Sheets & Rubber Stamps
Here's a grid with Leslie's ideas for which sheet/stamps work for which sin (these are just starting points: I'm sure you'll come up with your own ideas). (Hint: scroll to the right on the pop-up to see all of them.)
And here's a quick link to all of the 7 Deadly Sins collage sheets & rubber stamps.
(New Robber Barons Collage Sheet is shown above right.)
See you on Facebook!
Posted by MizBella, November 20th, 2011