Note: most of the links on this post no longer work, as we moved to a new Web site in 2018. But you can try searching on the same names (as links below) on the new site.
WIN this Witchylicious SOLD OUT Halloween Witch Shrine Kit!
That's right my poppets, those outwardly sweet elves at Alpha Stamps kept one kit that they were trying to keep all for themselves but aha! We found out about it and are now giving it away! Those elves are always playing trixies and you just never know what they're hiding. (Or taking out of the Bella bin to use for themselves…hmph)!
What do you have to do to win this amazing kit of Halloween goodness? Just leave us a comment here (by midnight on Saturday November 12th), and on Monday, November 14th we will pull a winner out of our ginormous witchy-pooh hat! A link back to our Giveaway would be wicked-good but not required to enter the contest.
You could put together this kit to make a little Halloween Witch Shrine, like Teri's sample art below (with lots of components to spare), or use them on other Halloween-y projects. Note: finished sample not included in the Giveaway!
This kit includes:
Halloween Mini-Dash Shrine Kit
Easy to assemble, laser-cut masonite. The backs and sides are a spider web and the kit also comes with a masonite bat and spider to put anywhere you like.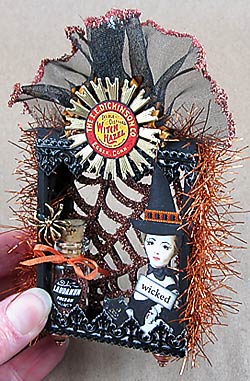 3 Collage Sheets (cardstock version):
Witchy Business
Skeleton Slides
Halloween Words
1/2 yard of each of these Ribbons/Trims:
– Orange Halloween Tinsel
– Sheer Ribbon – Checkerboard Edge
– Thin Orange/Black Stitched Ribbon
– 2mm Silk Ribbons – Carrot
2 Dresdens:
Gold Dresden Halo
Baroque Dresden Borders – Black
Spider Bead
Gold-plated cast pewter. 1/2″ wide. Vertical hole for threading.
Halloween Glitter In Bottle
Leslie's own color mix, packaged in a small glass bottle with a cork. Pretty enough to leave in the bottle and use in the shrine pictured to your right (Teri used some and still had plenty left to leave in the bottle for the shrine).
4 Domed Copper Bead Caps
Used as feet in the sample.

Note: If purchased separately, all these goodies would be $41.60. That is, if you could actually still buy the kit! Heee!
Click on all the photos for more details.
Posted by MizBella, October 30th, 2011