Past Design Team Member Sarah Whitmire took time from her beyond-busy schedule to create some fabulous Halloween samples for us! Sarah is a very gifted artist and also the very inspirational creator of "Soul Journaling." I asked her to give us an update of what's been going on with her since she departed the Alpha Stamps Design Team.

What have you been up to since you left the Design Team?
Since I left the Alpha Stamps Design team I have been working a lot on furthering my painting skills. I've been traveling and taking art classes and also getting ready to teach more off-line, in person. I'll be teaching in Sanford, FL in October and possibly at Art and Soul in Las Vegas next year.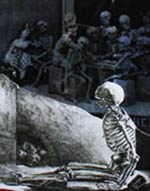 I'm excited to have gotten a chance to work with a friend and fellow artist Seth Apter on a collaborative project that will be featured in Somerset Studio magazine soon and I will also have a piece in his new book coming out through North Light (sorry no concrete dates yet). I've been doing design projects for companies like Amaco (the makers of gorgeous Rub'n Buff) and Kuretake (the makers of the awesome Zig pen). I was so excited to have a large piece at CHA recently for Amaco. I've also been working on new online classes and of course running the old favorites privately through Soul Journaling and through Joggles. My Soul Journaling Yahoo group girls and I have recently been keeping busy with "journaling prompt" swaps this summer too.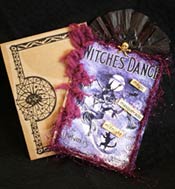 Is that BEESWAX on your book pages? What else have you been adding wax to? Does it ever melt after a project has been finished?
Great question! It may look like beeswax but it actually isn't. I primed the wood first with gesso and then used mixtures of Golden's fluid acrylic paints layered and pooled in washes. After they were dry I sanded the paint for a worn rustic look. I haven't been adding too much wax to projects lately except for my cupcake series which I consistently make the same way.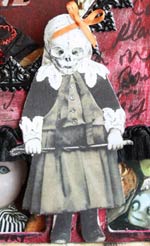 However, I did have an encaustics party a few months ago and invited all my artist friends to come play at my house. We had a ball playing with more traditional encaustic materials and techniques. I highly recommend the book called Embracing Encaustic by Linda and William Womack for beginners ready to dive in. It's got easy to follow instruction, color photos and great sample artwork.
Also, the beeswax won't melt unless you reheat it with a torch, hot iron or leave it in direct sunlight or hot car. I love the fact that years later if I want, I can remelt the wax and completely take apart and change things I don't like anymore.

Is there anything upcoming that you'd like to share with us?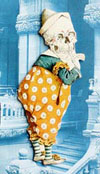 You can keep up with my goings-on through my websites: Caspiana, and Soul Journaling. There you will find my blog, mailing list and current events.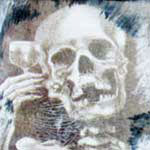 Bella's note: Miz Sarah is being shy. If you visit her website Caspiana, you can see all of the amazing works she has submitted that have been published by Cloth Paper Scissors, the Somerset family of magazines and others!
See all of the pictures from Sarah's Halloween (2011) creations here.
You can also see more of Sarah's gorgeous work from the Alpha Stamps Design Team in the Gallery!
Posted by MizBella, September 9th, 2011