Note: most of the links on this post no longer work, as we moved to a new Web site in 2018. But you can try searching on the same names (as links below) on the new site.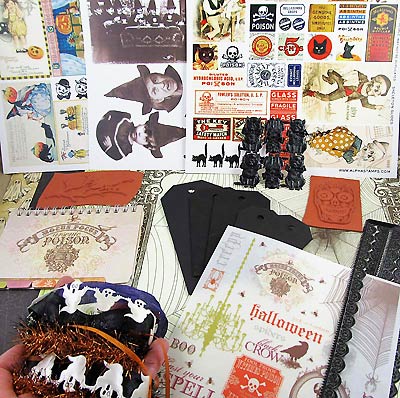 Win the fabulous Hocus Pocus Halloween Kit shown at right and have your art featured on the Alpha Stamps' blog! Enter up to 3 of your original designs into our Halloween Giveaway Challenge!

The Rules:
– Create up to 3 pieces of Halloween-themed art using at least 1 Alpha Stamps' rubber stamp or collage sheet image in each entry. (Did I mention that all the Halloween Collage Sheets are now on sale?!)
– Maximum of 3 entries per person (so you can enter 1, 2 or 3 pieces of artwork).
– Submissions must be your own original artwork.

How to Enter:
– Take a good quality photo of the piece you would like to submit (preferably against a neutral-color background) and save the photo as a jpeg. Please also include your name in the jpeg file name (e.g., JSmithHalloweenATC.jpg )
– Simply email submissions to submissions@alphastamps.com and include the words "Halloween Giveaway Challenge" in the email title. Please include your name and the title of the artwork in the body of the email.
The email address you send the submission from will be the address used to notify you if you are a winner.

Deadline:
Submissions are due by NOON (PST) Sunday, August 21.

Voting:
Voting will be via poll on the Alpha Stamps' blog. Voting will be open from August 22 – midnight August 26, with the Challenge winner posted on Monday, August 29 REVISED: August 24 – midnight August 31, with the Challenge winner posted on Friday, September 2. Editor's Pick will be posted by the end of that week (September 3).

Prizes:
Both the popular-vote winner and the Editor's Pick winner will receive the Halloween Giveaway package shown above (more details on what's in the package).
In addition to the Halloween Giveaway package, both winners will have their artwork featured on our blog with a link to their Web site or blog!

Spread the Word and Get a Gift!
If you would like to help spread the word about our challenge, you will get our brand new Halloween Romance Collage Sheet free as a high resolution digital download! One sheet per person, though you are welcome to post in multiple places with great appreciation. You're welcome to use the collage sheet in your personal artwork, jewelry, journals, etc. (or even in your entry for the Giveaway!) Or hold onto it for a future project. Note: this item is not for you to resell.
Post about this contest on your blog, Facebook wall, Web site, etc., and link back to THIS post. Email Miz Bella and show her where you have posted, and we will email you your digital collage sheet! So even if you don't play, you can still win! Feel free to use one of the Blog Badges, though it's not required.
Again, not required to enter the contest or to receive the collage sheet, we would appreciate a "Like" on our new Alpha Stamps Facebook Page.
Thank you!
Posted by Leslie, July 23rd, 2011