Maybe a craft room (a quilting room, a knitting room)… lots of ideas (and inspiration below in TWO projects by Design Team Member Shannon Cooper), but first: FIVE items are back in stock that inspired me to revisit those fun projects. ALL are included in todays sale (and note that sale on ALL Sewing & Cooking Collage Sheets, too)!


The first of Shannon's projects is The Mini Quilter's Nook!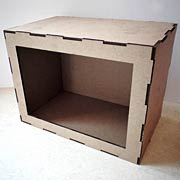 For the past couple of months, I have been been assembling a miniature craft room inside an 8″ x 6″ x 5″ deep room box. It is a pretty small space but there are so many things going on inside. It started with a Treadle Sewing Machine, then a Sewing Room Thread Cabinet, along with a Library Table that worked out great as a place to store bolts of fabric, and finally half of a Chipboard Steamer Trunk for a bookcase…
Personally, I love the bolts of fabric Shannon made (you can spy a couple with a cat lounging on them in the wide photo below… and more are stashed under that "cutting table").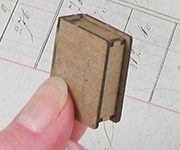 And (of course!), I also love the Sewing Room Thread Cabinet (that Shannon is holding open in the photo at far right). She did such a good job decorating it (and distressing it… the cat must have been scratching at it). Plus that orange-y "leather" box of thread on the bottom shelf is made from the 1 inch Faux Book Box!

More info (and more photos!) in Shannon's blog and/or see her supply list. You won't believe some of the photos like the teeny, tiny knitting sample Shannon made (see the red knitting in the basket in the lower left corner of the wide photo directly below?!) Or the tiny embroidery in that basket at right?
Note: there are photos of 6 (more) items in Shannons's supplies highlighted down in the sale section (and 3 substitutes I added to the sale, too)!

Next up is The Doll Maker's Room!
I sooo love Shannon's tiny, filled-to-the-brim sewing scene! Here's a bit from her blog post:
Sometimes the smallest of things spark the greatest happiness. Whether it comes in the smile of a newborn baby, a kitty jumping in your lap for a snuggle, or an espresso macaron, finding joy in your everyday life is essential. Lots of times it is just there waiting for you to see it.
Joy presented itself to me via Alpha Stamps in the form of a 1:12 scale Vintage Sewing Table, which is nearly as nice as a warm kitty in your lap. The Vintage Sewing Table led to (surprise!) a Vintage Sewing Machine, then a 4 x 4 inch square room box to put the table, followed by a shelf… well, when it was all said and done, I had the makings of a little sewing room and I couldn't have been happier.
I tweaked the idea of a sewing room into a little doll maker's space early on, mostly after assembling the Tiny Spice Rack into a ribbon holder. Don't ask how that translated into "doll maker's studio" because I couldn't tell you. It just sort of happened.

The 1:12 Wall-Mount Mail Holders Set (swoon!) were turned into bitty bins for fabric, patterns, button cards, and even a silly rabbit. I really love those holders! After assembling them, I slathered modeling paste over the surface with my finger, left them to dry, then painted the holders with white acrylic paint. They were sanded a bit, given a blotchy floral paint job, and finally aged with a smidgeon of watered down brown acrylic paint. They are pretty cute in a very rustic sort of way. It works here, I guess. I mimicked the paint job on the spice rack for cohesion.
I love how this project turned out! You can see more photos and read more on her blog post. Plus here's Shannon's supply list.


NEW: Sewing Room Box SALE
This is a custom collection that includes the supplies from BOTH art projects AND some bonus items (see the first row below). All 3 of those items in the top row are substitutes for items in Shannon's The Mini Quilter's Nook artwork (actually, all 6 of the preview items below are in that project). And remember all those back-in-stock items above (and ALL of the Sewing & Cooking Themed Collage Sheets) are also on sale!
Use coupon SEWING when checking out to get an additional 20% off on EVERYTHING in this collection (and that even includes some clearance items)!
The sale ends TUESDAY NIGHT, April 26th at midnight PST. Over 50 items! (And that doesn't even count the collage sheets!)
See the entire sale collection here!

Posted by Leslie, April 24th, 2022