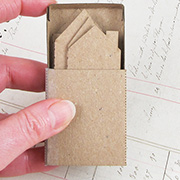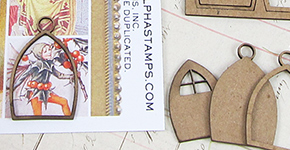 I've been trying to (keep) thinking up little projects for you all. I know a few of you are super busy this month… or have not yet recovered from taxes (or lingering snow). So to follow up the recent small projects (like the Fairy Door Charms or Tiny Tote Box), there's a new Matchbox Skyline Book today (and adorable artwork using it, by Teri Calia)!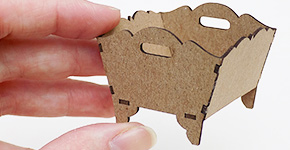 Aw… such a cute little set (see the photo at right). The Matchbox Skyline Book is a flat set of chipboard pieces (with score lines) to build a small accordion-fold booklet that fits inside a matchbox (box plus sliding cover). Plus the booklet has a mix of building roof silhouettes so you can play with how you decorate, and you can see a preview when the booklet is folded closed.
The matchbox itself is approx. 1-3/4″ x 2-1/8″ (x 3/8″ deep) when closed. It's got a lot of wiggle room so you can paper the matchbox (and embellish the booklet) and still slide the matchbox open.

Ohhh… ahhh. Just look at that tiny masterpiece by Teri! Pretty much all the paper (inside and out) is from the Maps, Text & Ledgers 8×8 Paper Set (that set is huge — 60 pages — and Teri used the postage stamps from it as little scenes inside the windows on all her book pages).
The only exceptions (regarding paper) are from the Butterflies & Moths Collage Sheet or the Words Collage Sheet. Then add a bit of shine and a knob and you're done!
Here's a link to see all of Teri's supplies, and you can see more photos and read more on Teri's blog post. There's a chance to win EVERYTHING Teri used (plus a couple suggestions by moi) down in the Giveaway.
And between here and there, info on how Alice wiggled her way into this project….


New Goodies! – ALL on Sale!

New Sale: ALL Alice in Wonderland Collage Sheets are on sale!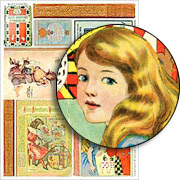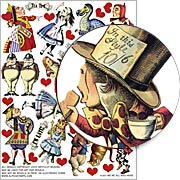 In honor of those cute, new Alice in Wonderland Faux Postage Stamp Stickers, ALL of the Alice in Wonderland Collage Sheets are ON SALE!
Almost 50 options, like the We Are All Mad Here Collage Sheet and Alice Covers Collage Sheet shown at left and right.
The sale ends MONDAY night, May 7th (2018).
Go see all the Alice Collage Sheet options!


NEW Alice in Wonderland gift with every order!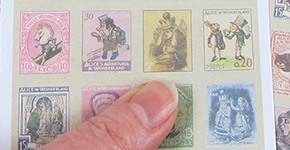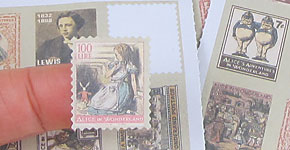 Ya know… those new faux postage stamps would work well behind little windows in a Matchbox Skyline Book (like the stamps Teri used in her skyline booklet)… ALL orders, now through Monday night, May 7th (2018) will receive ONE PAGE from the new Alice in Wonderland Faux Postage Stamp Stickers FREE! (Normally sold in sets of 4 pages… one page is 20 stickers!)

Hooray for the Tiny Matchbox Book & Tiny Alice Giveaway!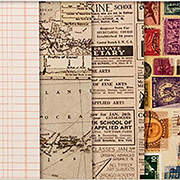 First off: EVERYTHING in Teri's supply list is in today's Giveaway!
That means you'll get one of the new Matchbox Skyline Book and the (big) Maps, Text & Ledgers 8×8 Paper Set!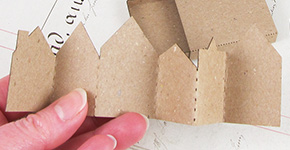 Next up: a full set of the new Alice in Wonderland Faux Postage Stamp Stickers!
And… some of the Alice in Wonderland (sale) Collage Sheets with smaller images:
– Tiny Alice Book Covers Collage Sheet
– China Cabinet House Accessories Collage Sheet
– I Wonder Collage Sheet
To enter the Tiny Matchbox Book & Tiny Alice Giveaway drawing all you have to do is leave a comment BELOW on this blog post TODAY or TOMORROW (the deadline is 11:59 pm PST, Friday Night, May 4, 2018).
AND tell me: Your Matchbox Skyline Book… How will you decorate it? Alice themed? Vintage postage like Teri's sample? Something else?
Don't forget to leave your (hello! correct) email address, too, so I can contact the winner; your email address does not need to be made public. Note: I'm offering free shipping, too, but only within the USA. International shipping will still apply.
Please be patient! Spammers try to post crap here a lot so comments are moderated. So if you don't see your post in the comments section, be patient and check back in a few hours before re-posting it, please!
After midnight, I'll randomly pick the winner (via Random.org).
Hey, who won the Tiny Dress Shop Kit Giveaway from Sunday's newsletter? That would be Dona! Congrats! Check your email for info.

Posted by Leslie, May 3rd, 2018