Hooray! More Halloween goodies! I wish it could go on all year!
Design Team Member Kristin Batsel has created a Spooky Halloween Banner, and it would be a welcome addition to my house!
Kristin used the new Wonderfully Wicked 6×6 Paper Pad for the background papers, and clocks from the new Victorian Furniture Chipboard Set – Sofa.
"I used lightweight cardboard to make the pennant shapes. They're 4″ wide at the top, and 6″ to the point, which allowed me to use 6″ by 6" scrapbook paper to cover them. Each pennant is then outlined with a thin Dresden trim, and has a Tim Holtz "Typed Token" attached to the point with a brad.
"The whimsical clock on this banner proclaims it's pumpkin time, and the skelly agrees. He's holding an October 31st sign and a freshly carved jack o'lantern. The Tim Holtz tag says, "spooky." If I saw this guy running down the road, I'm sure I'd agree."
Bonus: Kristin has provided a tutorial on her blog post, with step-by-step instructions for creating the folded paper medallions!


Learn more in Kristin's post and see all the goodies she used in her Supply List.
Halloween Clocks Kit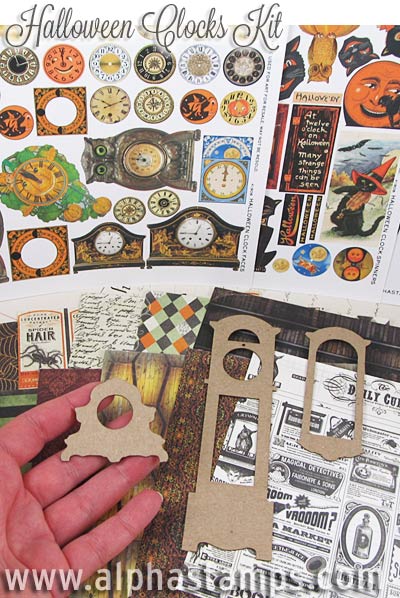 Clocks and Halloween?! Yes, it may seem an odd combo, but it just came together. Plus as a preface to all the fun artwork from the Design Team yet to come, Kristin's banner above, pennants like "Pumpkin Time" and "The Witching Hour" can give you an idea how clocks and Halloween can work together.
This kit started with the Wonderfully Wicked 6×6 Paper Pad. This is a great combo of papers and the more I work with it the better it gets. Spider webs, handwriting (with drips of blood), busy carpet patterns, and a very cool sheet of rows of old books. The include one sheet each of all TWELVE patterns in the pad. (Note: there are larger 12″ x 12″ scrapbook papers from this line, too… see below).
Back to this kit, there are 3 collage sheets: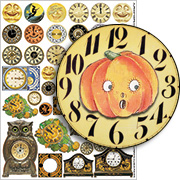 – New Halloween Clock Faces Collage Sheet. All kinds of silliness here! Clock faces to fit behind all the sizes of round "holes" in the 2 Victorian furniture chipboard shape sets — and the clocks in this Halloween Clocks Kit (note: the three chipboard clocks in this kit are drawn from the 2 Victorian furniture chipboard sets).

– New Halloween Clock Spinners Collage Sheet. Wow! There are enough orange and black retro Halloween images here to get you through the entire season! These are mainly "spinners" sized to use the little pivot hole in the the chipboard grandfather clock. A couple are traditional moon dials that work with the half circle cut in that chipboard clock. But most of these are much larger (and tall and skinny) spinners that show the image up above the top of the clock. Some can be hidden (nothing shows above the clock till you spin the image around 180 degrees — see that tall strip of photos at left). Others have images on both ends (so you could have a dashing cat (in top hat no less) showing above the clock, or spin him around and have an owl instead. More photos and info on making the spinners work is on the collage sheet page.

– Halloween #3 Collage Sheet. Lots of cats and a vintage illustration of kids bobbing for apples. Also includes a little paper toy from 1907 (instructions printed on the sheet).
(And remember: all the collage sheets are on sale for 15% off (and the digital downloads are on sale for 40% off!), so those new collage sheets are on sale, too!)
Lastly, THREE chipboard clock shapes, each with a round hole cut out for putting a clock face behind (and that grandfather clock you've already heard about). Clock faces sized for each of these chipboard clocks are included in the kit, via the Halloween Clock Faces Collage Sheet.
Highlights of Today's New Goodies – ALL on Sale!
Posted by Leslie, October 2nd, 2016