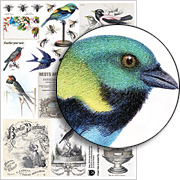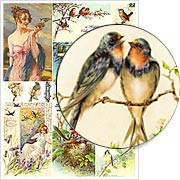 Birds Collage Sheets?! Yes! A nice, big, fat section, too! From spring birds with nests to winter birds in the snow, or Aesop's Fables, or Four and Twenty Blackbirds…
ALL Birds Collage Sheets on sale now through Monday night, March 7th! (Bees, Birds and Butterflies Collage Sheet and Blue Birds Collage Sheet from the sale section are shown at left.)


Design Team Member Nichola Battilana has made a couple of feylicious Thistle Wagons for you to enjoy. (See the wide photo below, too.)
"The Thistle Wagons are a forest-y version of the Fairy Godmother Travelling Sales Wagon I made in January (there's a tute link in that if you're interested).
The base is a Square Shrine Shadowbox to which I have added 2 Inch Spoked Wheels. For the Thistle Wagons, I decided to adorn the top of them with Floral Chipboard Border Strips and some new Feathery Flourishes. On the Thistle Wagon on the left (see below), I added the Silver Thistle piece atop the Mini Chipboard Crest Signs; to finish it off quite nicely.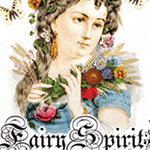 Inside the wagon, all manner of items that a forest fairy, sprite, or occasional goblin may like. Pink Roses to turn into a lovely jelly, potions, small pinecones (good eating and helps to sharpen goblin teeth on), Magic Mushrooms and keys that unlock enchanted places."
Thistle Wagons Supply List
Ahh, Fall leaves. My favorite season and here we are — not quite into Spring yet! Perhaps I'll have to make my own Thistle-themed Wagon; and just in case you'd like to make one Nichola has created the new Fairy Tales & Gypsy Proverbs Collage Sheet to help decorate the wagon and potion bottles.

New Collage Supplies & Highlights – ALL on Sale!

Hooray for the Thistles & Mushrooms Giveaway!
I picked out a mix of items from Nichola's adorable project (and a few new items) to make this Giveaway:
– Thistles Collage Sheet
– Silver Thistle with Leaves
– Chipboard Thistles Set
– Potion Bottles Sampler Set (a ton of options!)
– Red Mushrooms on Wires
– Fern Garland
– Feathery Flourishes Set
– Mini Oak Leaves in Bag
– Fairy Tales & Gypsy Proverbs Collage Sheet

To enter the Thistles & Mushrooms Giveaway drawing all you have to do is leave a comment BELOW on this blog post TODAY OR TOMORROW (the deadline is 11:59 pm PST, FRIDAY, March 4, 2016)! And tell me: What will you make with all these items? A wagon like Nichola's? A different project?
Don't forget to leave your (hello! correct) email address, too, so I can contact the winner; your email address does not need to be made public. Note: I'm offering free shipping, too, but only within the USA. International shipping will still apply.
Please be patient! Spammers try to post crap here a lot so comments are moderated. So if you don't see your post in the comments section, be patient and check back in a few hours before re-posting it, please!
After midnight, I'll randomly pick the winner (via Random.org). So check your mailbox on Sunday morning to see who won and for the next Giveaway and Newsletter!
Hey, who won the February Kits Giveaway? That would be Gretchen! Congratulations! Check your email for info.
Posted by Leslie, March 3rd, 2016