Note: most of the links on this post no longer work, as we moved to a new Web site in 2018. But you can try searching on the same names (as links below) on the new site.

Lorelei Queen Mother Mermaid Crone
Lorelei lives beneath the waves with all the mermaids and mermen that live and have come before. She is the oldest in their underwater community and all revere her wisdom and wonder at her mysterious ways.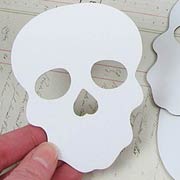 Congratulations to Sheila Runkis for winning Best in Show for the Sugar Skull Swap! Sheila's Sugar Skull was very creative with its underwater theme and the story of Queen Lorelei was enclosed in a tiny envelope attached to the back of the skull. And see the close-ups below for some beautiful beaded details.
Here's a bit about Sheila in her own words:
"I've been imagining, making things, and creating stories since I was a little kid under the trees playing with rocks and leaves. With no formal training except for some workshops, I have dabbled in many facets of artistry: painting, primarily oils, with sidelines into sculpture and photography, card making, printmaking, fimo clay, altered art projects, sewing (a disaster!), silk painting… I love to learn and try it all. Color is my passion. I've always loved mermaids and am a New England girl at heart. Presently I live in Mississippi with my husband and four cats that allow us to live there in exchange for waiting on them hand and foot."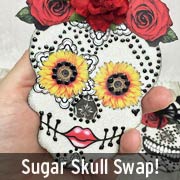 Check out all of the amazing skulls from the swap in the Gallery. Visit Sheila at her blog Dragonfly Bones to offer your congrats on winning $100 worth of Alpha Stamps supplies!

Posted by MizBella, October 8th, 2015