Note: most of the links on this post no longer work, as we moved to a new Web site in 2018. However, you can see the supply list items from Lora's and Rhea's projects that are still available on the new site.
Wow! This is a jam-packed-with-color newsletter! We have lovely projects by TWO Design Team Members, plus new items from Tim Holtz, and a big new group of colors! I'll let Bella take the lead and introduce projects by Lora Mahaffey and Rhea Freitag

Design Team Member Lora Mahaffey has a marvelous treat for you this week. Lora has created a lovely shadowbox and has also put together a video tutorial that is over-the-moon full of great ideas and tips on how to use Copic Markers. Double the fun with Miz Mahaffey!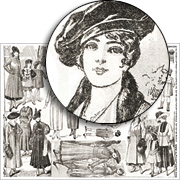 Lora's shadowbox has beautiful images from the New and On Sale! The Mode in French Fashion Collage Sheet (swoon!) and the New and On Sale! Paintables Cards. (The Paintables Cards are made of heavyweight watercolor-texture cardstock in a slightly aged, creamy vintage color. Use "as is" or embellish with watercolor pencils, inks, mist, etc.)
There are a lot of good things to take in with Lora's video tutorial. She starts off by showing you how she uses the Copic Markers to color the Paintables Cards, like how she achieved the graduated color effect on the flower petals. Then Lora shows you how to color in the images from The Mode in French Fashion Collage Sheet as she did on her shadowbox.
Other items that Lora demonstrates her Copic-ability are on paper, White Seam Binding and Gold Mini Rosette Dresden Borders. So clever that Miz Mahaffey!
What? What wad that?! You can't decide on which Copic Markers you want to get? Deciding upon what Copic Marker to use can be so horribly daunting can't it? Well guess what? We have FOUR New and On Sale! sets to help you decide what colors to use! You can choose from Copic Sketch Marker Sets in Sea and Sky, Pale Pastels, Floral Favorites 1 and Floral Favorites 2. Yes I know — now you have to decide which set to get, but so do I!
Here's the link to Lora's Supply List and you can see the video tutorial on her blog.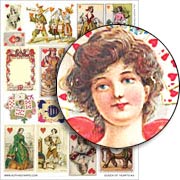 Next up, Rhea Freitag created a cute little Wooden ATC Book and also created a Snapguide tutorial to go along with it!
Inside of Rhea's book there are lots of fun envelopes and pockets to tuck Ephemera and all sort of other goodies inside. As you know I am obsessed with little envelopes, the Glassine envelopes being my fave. They are great for stuffing little things into (like that vintage Queen of Hearts card in the glassine envelope in the photo, from the Queen of Hearts #3 Collage Sheet), small snips of this or that, and secrets. Oooohhh secrets! Do you have any? I'd have you tell them to me but I'm digressing and have to get a move on!
Aside from the adorable On Sale! Wooden Album Covers, Rhea's ATC book also uses the Cartographer 3×4 ATC Pad, which are a perfect fit for the inside of the covers. Throughout the book the On Sale! Remnant Rub-Ons – Words are used and they work specially well on the glassine. Just saying — the glassine is beyond fabulous!
Here's the link to Rhea's Supply List and you can check out her blog to see more pictures and the Snapguide.
Note: last Thursday we announced a FREE Gift Kit, and that offer is still on: a Botanical Tea Mini Gift Kit is FREE for all orders over $20! More info and a photo are below.
And… The MAY kits have started shipping! (For subscribers who have pre-paid.) More info and lovely artwork by the Design Team using the kit will be in next Sunday's newsletter!


Hooray! A Coloring Giveaway!
With all those lovely new inks and pens (and Lora's tutorial) I figured you'd like some things to color! And since Lora included coloring seam binding and Dresden, I included some of those, too (see the 2 photos below for close-ups). So first, some white ribbons or pearls:
– White Seam Binding
– Stitched Leaf Ribbon – White On Sale!
– Teardrop Fused Pearls (Strands) On Sale!
Then some Dresden to color:
– Gold Mini Rosette Dresden Borders
– Gold Shell Dresden Border Strips
– White Dresden Border Sampler Set On Sale!
And then some Collage Sheets that include black and white vintage images:
– The Mode in French Fashion Collage Sheet New and On Sale!
– Bathing Costumes Collage Sheet
– Boardwalk Fashions Collage Sheet
Then moving on to more colorful things that are either in Lora's art or that coordinate with the colors:
– Botanical Tea Fauna Scrapbook Paper On Sale!
– Botanical Tea Scrapbook Paper On Sale!
– The Teens Collage Sheet
– 2 colors from the Liquid Pearls – Summer Colors Set On Sale!
– On the Boardwalk Seam Binding Set On Sale!
– AND one of the FREE Botanical Tea Mini Gift Kits (still available)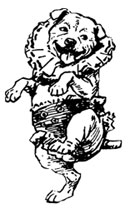 And just for fun, all four of the rubber stamps just added to the Clearance Sale:
Hey Diddle Diddle Group Rubber Stamp, Toby Dancing Rubber Stamp, Bubbles (F) Rubber Stamp, and The Cat & the Fiddle Text Rubber Stamp (at 80% off, they're insanely priced!)
Whew!
To enter the Coloring Giveaway drawing all you have to do is leave a comment BELOW on this blog post TODAY (the deadline is 11:59 pm PST, April 27, 2014).
Don't forget to leave your (hello! correct) email address, too, so I can contact the winner; your email address does not need to be made public. Note: I'm offering free shipping, too, but only within the USA. International shipping will still apply.
Please be patient! Spammers try to post crap here a lot so comments are moderated. So if you don't see your post in the comments section, be patient and check back in a few hours before re-posting it, please!
After midnight, I'll randomly pick the winner (via Random.org). So make sure to check back to see who won! And check your mailbox on Thursday morning for the next Giveaway and Newsletter!
Hey, who won Thursday's Botanical Tea Art Block Giveaway? That would be Lou Anne Colodny! Please check your email for my message about getting your mailing address.

Posted by Leslie, April 27th, 2014