Note: most of the links on this post no longer work, as we moved to a new Web site in 2018. But you can try searching on the same names (as links below) on the new site.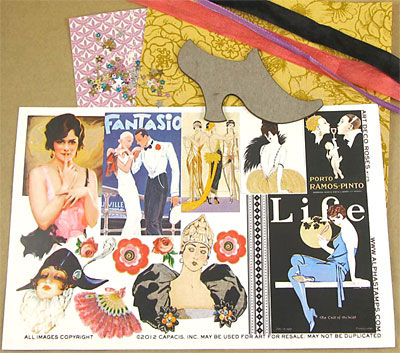 There is a lot going on in this newsletter… so grab a beverage and take a break (and read on).
Before I tell you about the two (!) new Art Deco mini kits, don't forget to review the "Vintage French Canvas Book Tutorial & French Kiss ATC Kit" recap from Thursday's newsletter, especially because I've added a GIVEAWAY!
(PLEASE NOTE: the Giveaway closes at midnight TONIGHT! If you were on the mailing list for the newsletter you would have had a few more days "heads up!" that there way a Giveaway going on… see the right column for how to sign up for the newsletter!)
And there are back in stock items (including some Dresden I've been awaiting for 2 months from Germany), new 99 Cent Sale Stamps and a reminder on the Marie Antoinette Swap!

TWO Art Deco Mini Kits
Quick & easy little kits for making a Deco-inspired flirty shoe (or ATC or who knows what you'll come up with).
– Art Deco Roses Mini Kit (shown in large photo at right)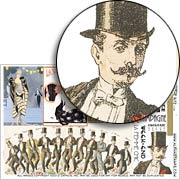 – Putting on the Ritz Mini Kit (used in that snippet from sample art by Miz Bella at left)
And the 2 new collage sheets from these kits are also available separately — and they're On Sale! (Art Deco Roses Collage Sheet and Putting on the Ritz Collage Sheet, shown at right.)
In honor of these kits (and new collage sheets), the entire Art Deco/Costumes Collage Sheets Section has been put on sale!

Many thanks to Design Team Member Laura Carson for sharing her process on how to create a French-themed hinged canvas book: from hinging two blank 6″ x 6″ painters canvases together to layering papers (lots of layers!) to create the vintage look.

After seeing the wonderful canvas book Laura made with the French Kiss 6×6 Paper Pad mixed with images of the lovely Cléo de Mérode, it seemed well-past time to finish the Cléo de Mérode ATCs Collage Sheet I've been contemplating (and to create a kit using both items). And I've picked out some luscious silk, cotton & rayon ribbons to complement the color palette.

What? Did you say GIVEAWAY?
Yes, you can win your very own French Kiss ATC Kit for free (I'm even including free shipping… though only in the U.S.A.) Read more and enter the drawing on the French Kiss ATC Kit Giveaway! page.

Posted by Leslie, March 7th, 2012