Note: most of the links on this post no longer work, as we moved to a new Web site in 2018. But you can try searching on the same names (as links below) on the new site.
I don't often have time just to wander around and look at all the pretty things in stock and imagine what ribbon or trim would work well with what paper. Thankfully there is enough variety in the options that there are many happy accidents.
And, thankfully, when everyone is away for the holidays I can let my mind wander without questions or phone calls.
So here's the theme for the first day of this week of Giveaways: The Beach.
Here's how these themed days will work: I've gathered new (and current) items around a theme. All of them are on sale for everyone. And I've pulled together a lovely Giveaway Kit made from those goodies that will be awarded to one lucky person (click on the photo at right to see even more of the Beach Kit).
To enter the Beach Giveaway drawing all you have to do is leave a comment on this blog post (don't forget to leave your email address, too, so I can contact the winner; note, your email address does not need to be made public).
After midnight I'll randomly pick the previous day's winner.
More info on the Holiday Closure & Giveaway Rules (including how you can get entered twice in each day's drawing).
Note: all the indented items below are included in the Giveaway Kit. There are some additional (related) things just(!) put on sale that are not in the Giveaway Kit (down at the bottom of this page).
New & On Sale
(and included in the Giveaway Kit)
Sea Treasures File Folder
New & on Sale! Standard (US) manila folder size. Printed front and back (and inside) with colorful designs to add some caffeine to your organizing. You'll receive a random pick of tab location (left, center or right).

Koi Pendant
New & on Sale! Beautiful, ornate brass stamping. Could be a dolphin (from one of those old Renaissance map engravings) but I'm going with koi.


Tiny Bubbles Scrapbook Paper
New & on Sale! Cute '50s-ish pattern of bubbles on the front and stylized waves on the back.

Hurricane Glass Clam Shell Beads
(2 colors and both in the kit!)
New & on Sale! Pressed hurricane glass clam shell beads, imported from the Czech Republic. Hurricane glass is a combination of multiple glass colors that can change appearance and swirl pattern based on the conditions at the time of pressing. Each batch is unique and difficult to reproduce. Caramel or rust.


Tiny Brass Clam Shells
New & on Sale! Raw brass stampings, so concave on the back. No loops. Small enough to use in a bottle or small tin (to rattle around w/beads or glitter). Or float them in resin.

Tiny Brass Seahorses
New & on Sale! Beautifully detailed, raw brass stampings (so concave on the back). No loops. Small enough to use in a bottle or small tin (to rattle around w/beads or glitter). Or float them in resin.

Not New to the Site, But Newly On Sale!
(and included in the Giveaway Kit)
6mm Faceted Bead Mixes
(Lagoon in kit but all colors on sale)
If you like shiny things, try not to swoon… strands of approximately 50 fire-polished, imported Czech glass beads in 7 color mixes. Break them up and use them in earrings or other jewelry. If you're not sure what hue will match your design, these will give you options.

Antique Gold Starfish
Antiqued gold-plated plastic (so quite lightweight for the size). Double sided.


Hinged House Pendant
An odd item to include in a beach-themed kit? Not really: check out the pendant Design Team Member Lynn Stevens made using a similarly shaped piece of glass and an image from the Bathing Beauties #2 Collage Sheet!

Approx. 1-3/4″ x 1″ hinged, double-pane house pendants. 6-7mm thick. Seal photos or images between the two pieces of clear glass to make custom memory jewelry.

4×4 Coasters
Another odd item to include in a beach-themed kit? Not so! Look at the beautiful 4×4 Mermaid book page Guest Designer Wendy Anderson made using one of these coasters. For more inspiration check out the Mermaid Swap Gallery.

4″ x 4″ fiberboard coasters with rounded edges. Easy to paint over or glue onto (so you don't need to care about the silly superbowl themed graphics).


Seashore


(And the entire Bathing Beauties, Beach, Mermaids section of collage sheets are on sale and are now available as digital downloads!)


Double-Sided Seahorse Charms
(Vintage patina in kit but all on sale)
Double-sided seahorses (a little puffy/3D). Hollow (not heavy). Three options: Larger seahorses in vintage patinaed brass or raw brass; or smaller seahorse in raw brass.

Sold out but included in the Giveaway Kit
Masonite Castle Album
Bare for you to cover, paint and embellish. Approx. 6-3/4″ x 8-1/4″. Please note this album does not include book rings.

Light Blue 4mm Variegated Silk Ribbon
(We still carry Variegated Silk Ribbons, but in other colors — also on Sale!)


Pearls in Tin
A medium Jeweler's Tin, filled will cream-colored, glass pearl beads (see the photo at the top of this page). (We still carry Pearl Mixes in Tins and the Copper color are on Sale!)


Related Sale Items
(not included in the Giveaway)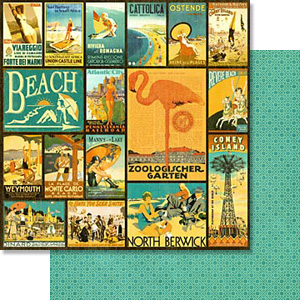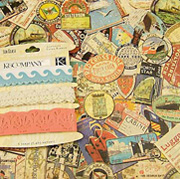 Sea Glass Labels Scrapbook Paper
12″ x 12″ paper with a dense pattern created by layers and layers of vintage travel stickers/labels. Distressed (subtly antiqued around the edges).
On the Boardwalk Paper Set, Tags or Borders
A fun, colorful, vintage summer vacation set. The images include bathing beauties, travel postcards, an ocean wave print… all in gorgeous hues of aqua and sunset orange.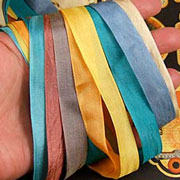 On the Boardwalk Seam Binding Set
100% rayon. Silky and drapey. 9/16″ wide. Chosen to coordinate with the aqua and sunset orange hues of the On the Boardwalk Paper Sets. Sold as an 8 Yard Set (1 yard each of 8 colors).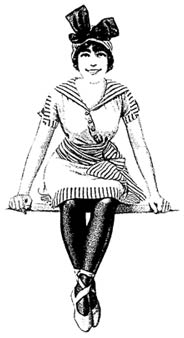 All 5 Beach/Seaside Rubber Stamps
And the unmounted versions are included in the 99 Cent Stamp Sale!


Whew! How's that for just the first day?
Here's the recap of the Giveaway Rules again.
Posted by Leslie, December 26th, 2011