Design Team Member Shannon Cooper made an adorable Halloween-themed Chaise Lounge (with a step-by-step tutorial explaining how she upholstered it).
ALL of the supplies from Shannon's artwork are included in today's sale (plus some extras I added — AND note the sale on ALL Mystical Collage Sheets, too)! More info below.
BUT FIRST: there's a FREE GIFT with all orders placed today (June 2, 2022): a set of the Halloween Mini Cookies – Polymer Clay Slice Mix! Lots of tiny trims for a Halloween scene (or a bowl of candy) and would look right at home on the table in Shannon's artwork!

A Witchy Little Chaise by Shannon Cooper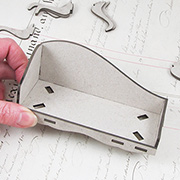 How cute it that?! When I suggested the 1:12 scale Chaise Lounge to Shannon, she knew immediately how she wanted to decorate it. I, on the other hand, did not immediately think "Halloween"… sure glad I have the best Design Team in the world!
From Shannon's blog post:
The miniature Wrought Iron Table looked nice along side the chaise, especially after it was given a furry edged table cover. The accessories like the vase of roses, a pewter candlestick, a set of keys, and a few other things helped, too.
The chaise is a cinch to assemble and decorate as it comes, but it is equally simple to upholster it, making it soft and squishy like a chaise should be.
The first thing you do is trace around the seat, back, and side pieces onto lightweight cardboard. I did this twice for two reasons. 1. In case I screwed up. 2. I wasn't sure if I also wanted to lightly upholster additional pieces to add on the outside of the chaise, covering the entire thing in fabric. Can never be too prepared.
Read more of Shannon's step-by-step tutorial (and to see lots more photos).
And here's a link to Shannon's supply list (with all those cool & creepy things on the table top). And if you scroll down to the sale section, you'll see that I added a few extras to Shannon's supplies as part of today's sale.


More New & Back-in-Stock Miniatures!
Aw… how cute are those half scale urns (and a vase) in the top row?! Plus, cute (tiny!) pumpkins. AND that wooden table (so glad it's finally made it back to this continent).


NEW: A Witchy Little Chaise SALE
This is a custom collection that includes the ALL the supplies from Shannon's A Witchy Little Chaise artwork! Note: I snuck in a few substitutions, too (mainly spider web themed papers, as options for the paper Shannon used as flooring… but a few more spider webs found their way into the sale group).
And I also put ALL of the Mystical Collage Sheets) on sale! So in addition to the tarot cards on the table in Shannon's art, you'll have a few more choices for miniature cards (and larger images, too)!
Use coupon WITCHY when checking out to get an additional 20% off on EVERYTHING in both collections!
The sale ends SATURDAY NIGHT, June 4 at midnight PST. (PLUS over 50 collage sheets — that second row below shows some of the collage sheets beyond those in Shannon's artwork!)
See the entire sale collection here! Plus here's the link to all the extra sale collage sheets.

Posted by Leslie, June 2nd, 2022