Either of those could be today's theme so why not both!
We have some new Alice in Wonderland things (related to the popular Alice 12×12 Paper Pad): Alice Tea Time Scrapbook Paper and Alice Cards on Rice Paper.
Oh, and crowns! From Dresden to rubber stamps, crowns are back in stock. (Psst: and there's a related sale that includes all 4 of these crowns… more info below.)

Plus there are 3 items back in stock that include cakes, cups (and other tiny kitchen-y things):


Wait! Why is that wheelbarrow in with the cakes and cups? Because Design Team Member Shannon Cooper made a delightful cookie cart out of it, in her The Fox, The Crow And The Cookie scene, with a rewriting of one of Aesop's Fables!
Shannon started with the Flower Cart Wheelbarrow… perfect for a fairy garden, filled with potted flowers. But, check out Shannon's adorable artwork, instead using the wheelbarrow for a pastry cart!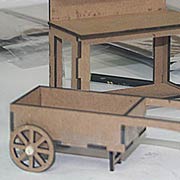 "I was so excited to get this 1:12 scale miniature wheelbarrow from Alpha Stamps! There are umpteen possibilities for it — flower cart, gardening wheelbarrow, a wheelbarrow full of puppies, peddler's cart, or even use it as a base for an even tinier themed scene inside… oh, I have to get another one. Or three.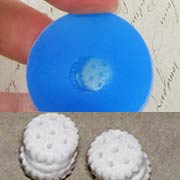 The idea for a cookie cart came quick because I had wanted to do a project based off a kooky song titled The Fox, The Crow and the Cookie for a long time and having the cart made it an easy decision. It was fortunate to find Alpha Stamps had Aesop's Fables Foxes and Birds and Crows collage sheets, as well as pages of miniature sweeties to stuff in the cart!
An excerpt from the song:
Through mostly vacant streets a Baker from the outskirts of his town
earned his living peddling sweets from a ragged cart he dragged around.
The clever Fox crept close behind, kept an ever watchful eye
for a chance to steal a Ginger spice cake or a Boysenberry pie.

The Fox, The Crow And The Cookie Supply List. Plus more photos on Shannon's blog post!

New & Back in Stock Goodies
There's tons more items today, too. Here's a sampling plus see see all 34 of them!


Cakes & Crowns & Cups SALE!
It only seems fitting! (And some teapots are in the mix, too!) On SALE at 30% off!
The sale ends at midnight TOMORROW NIGHT, July 12th.
Highlights are below, but click FLASH SALE to see everything! (Over 50 items!)

Psst: we're taking a break from Giveaways. But Miz Bella hosts Giveaways on the Alpha Stamps Facebook page!
Posted by Leslie, July 11th, 2019