Oh… don't cry! Alice is so popular, I bet she'll be making a re-appearance sometime soon. But before I tell you about the Alice sale, feast your eyes on:
Alice In Wonderland Tins by Design Team Member Susan Killam

These are so sweet! (From every angle including those cute images on the backs, see the wide photo below.) Lots of good details about techniques are in Susan's blog post, too.
And although (horrors!) Susan has until recently not been a fan of Alice (?) I'll still let her introduce the projects:
Hello Friends! As you might notice, I'm still working on Alice In Wonderland projects! I'll tell you a secret: Until last month, I never read or watched any version of Alice in Wonderland. No kidding! Since that's the Alpha Stamps April Kit theme, I decided to jump down the rabbit hole and finally explore for myself.
I survived. It was bewildering at times and downright weird at others, but I made it through 3-1/2 versions and only switched off two others (including the one with Scott Baio… yikes).
As a result, I have a few projects to share with you today. I used a lot of Alpha Stamps collage sheets and I'll include a separate list at the end for each project, just to keep it straight.
(Psst: the other project by Susan is shown below in the Giveaway section… and is equally sweet! And poor Susan! I could have suggested 3 of my favorite film versions if she'd only asked!)
Here's a link to all the supplies Susan used for her tins. Be sure to visit Susan's blog post for more info on how she made these beauties!


New & Back in Stock Goodies!
Wow… lots of architectural shapes! So many new things to mention today, they're not all covered in the previews below! Click here to see all TWELVE of them!
Keep reading (too) as there's a HUGE sale, related to the Alice-esque teapots below!


ENTIRE Alice Collection ON SALE!
Are we winding up our month of Alice? (There's a new kit this weekend, and it's not Alice themed…) So in honor of today's beautiful projects by Susan (and the end of our month of Alice), the ENTIRE Alice Collection is on sale!
This is a 25% off sale on over 130 options… including the highlights below! Everything from charms to collage sheets to chipboard frames.
The sale ends at midnight on FRIDAY night, April 26th. Click: FLASH SALE to see everything!


Tiny Alice Caterpillar Giveaway!
An ADORABLE second project today by Susan using the Faux Book Box Tiny Card Size as a base!
Here's my fave bit:
Alice in Wonderland Dominoes Collage Sheet
(Susan was inspired to use one of the mini images from this collage sheet inside the book (and the text on the inside front cover… and the front cover, too)… all those tiny scenes to choose from as there are FORTY domino images!)
I've picked ALL SEVEN items from Susan's supply list for today's Giveaway. Beside making a similar tiny book, I think those items are perfect to start a bunch of different Alice projects. (Note: this is a different supply list than the one for the tins above.)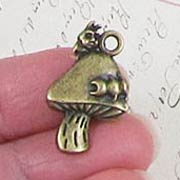 BONUS: I'm also including these items from the SALE section as I'm on a caterpillar spree!
– Tin-Sized Alice Collage Sheet
– A Large Blue Caterpillar ATCs Collage Sheet
– Mushroom & Caterpillar Charm
To enter the Tiny Alice Caterpillar Giveaway drawing all you have to do is leave a comment BELOW on this blog post TODAY or TOMORROW (the deadline is 11:59 pm PST, Friday Night, April 26, 2019).
And what are you going to make?
Don't forget to leave your (hello!) correct email address, too, so I can contact the winner; your email address does not need to be made public. Note: I'm offering free shipping, too, but only within the USA. International shipping will still apply.
Please be patient! Spammers try to post crap here a lot so comments are moderated. So if you don't see your post in the comments section, be patient and check back in a few hours before re-posting it, please!
After midnight, I'll randomly pick the winner (via Random.org).
Hey, who won the Two Tiny Projects Giveaway from Sunday's newsletter? That would be Erin Gardner! Congrats! Check your email for info.
Posted by Leslie, April 25th, 2019