"C is for Cat" Mini Folio by Design Team Member Shannon Cooper

This is beyond cute! Shannon did an amazing job turning around this new 4″ mini book (in a folio cover) on a tight deadline — AND crocheting the hats for her cat!
I'll let Shannon introduce the project:
In actuality, this should be titled "C is for Chaircat Mao" since that is the cat who inspired the project. I was sent a Mini Folio and the oh-so-covetable Raining Cats and Dogs Deluxe Collector's Edition Paper Set from Alpha Stamps and set to work making a little album of said cat.
Look how cute the folio is! It is pretty versatile and would look great with 3D elements, ribbons, charms, and whatnot on the outside. Lots of possibilities for this! I covered mine in black cardstock first, then added paper as well as a chipboard piece for the front (included in the paper set). I added a magnet on the flap and another on the cover to keep it closed.
Awww, there's my kitty on the mini book cover! She is wearing one of the many hats I crochet for her, which she mostly tolerates, but occasionally she gives me side-eye and would rather just sleep. I used the pictures of her acting like a normal cat for the album because they were kind of funny with the sarcastic text stickers I used.
The last two pages are relatable to all cat owners, I believe (below). Chair must've liked her little blossoms hat… haha! Not all kitties are keen on wearing hats so there are always the Little Crowns or Little Hats Chipboard Sets.
Here's Shannon's supply list. AND see more cat photos on Shannon's blog post! (Psst! And see the Giveaway below for another project by Shannon!)


New & Back in Stock Goodies!
So many new things to mention today, they're not all covered in the previews below! Click here to see them all… or keep reading as more are highlighted in the sale preview below!


ALL Cats ON SALE!
FLASH SALE on a big, mixed-up collection… but they're all cats & kittens!
This is a 25% off sale on everything kitty catty from collage sheets to charms to dollhouse minis to scrapbook papers!
75 options… including the highlights below (and the new Raining Cats & Dogs Deluxe Collector's Edition 12×12 Pack)!
The sale ends at midnight on Monday night, April 15th. Click: FLASH SALE to see everything!


The House of Alice Giveaway!

I went snooping around for an earlier Alice-themed project by Shannon… and look what I found! This adorable House of Alice Theatre is such a creative piece (creative for the recipient, too, as it has multiple scenes that can be dropped into the theatre through a slot Shannon left open in the top of the Square Shrine Shadowbox).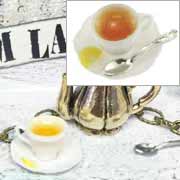 I love that there's a tiny teacup in place of a rose in the bouquet on the header (see the close-up in the lower right corner of that group of photos at left).
You can view the original post about the project. Here's a link to Shannon's Supply List.
I picked out some of my faves from that supply list for today's Giveaway!
– Square Shrine Shadowbox
– We're All Mad Here Collage Sheet
– Tiny Cup of Tea with Lemon
– Square Shadowbox Curtains – Red Collage Sheet
– Bronze Stopwatch Clock Charm – Roman Numerals
To enter the House of Alice Giveaway drawing all you have to do is leave a comment BELOW on this blog post TODAY or TOMORROW (the deadline is 11:59 pm PST, Monday Night, April 15, 2019).
And what are you going to make?
Don't forget to leave your (hello!) correct email address, too, so I can contact the winner; your email address does not need to be made public. Note: I'm offering free shipping, too, but only within the USA. International shipping will still apply.
Please be patient! Spammers try to post crap here a lot so comments are moderated. So if you don't see your post in the comments section, be patient and check back in a few hours before re-posting it, please!
After midnight, I'll randomly pick the winner (via Random.org).
Hey, who won the Alice Tarot Deck Giveaway from Thursday's newsletter? That would be Laurie B! Congrats! Check your email for info.

Posted by Leslie, April 14th, 2019