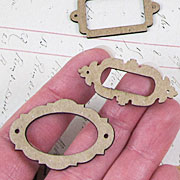 Reminder: The Design Team Call closes tonight! Note: you can apply as a paper crafter, collage artist, rubber stamper or miniaturist! Short story: deadline for submissions is January 31, 2019. Looking forward to seeing your artwork!

I know… it's cold. Some of you are hiding in your houses and wondering if the woolly mammoths will be running down the street soon.
This may help a little. In addition to the flash sale on ALL Die-Cut Frames & Windows (inspired by Nichola's artwork below — now 25% off!), I've also put the Fairies Collage Sheets on sale — 50% off!! Instant color if you buy a digital collage sheet file! See the Frames & Fairies sale section for a big mixed-up group of them both! The sale ends at midnight TOMORROW night, February 1st. A few more highlights from the sale section are below (beside the Miniature Bookplates Die-Cut Set shown at right… back in stock, in Nichola's artwork AND on sale)!

Next up: Do you remember these lovely little Fairy Dust Bagatelle Boxes that Design Team Member Nichola Battilana made a few years ago? The boxes (all SIX of them!) are now back: Bagatelle Boxes!
Teeny tiny! That's what these boxes are! Cute as little shrines (like Nichola made) or you can stack them into your own configuration (there's a photo with one option farther below in this post).
And all those cute "fairy dust" labels on the bottles are from Nichola's Fairy Dust Collage Sheet! Psst: Part of the current flash sale!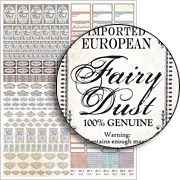 More info on her Fairy Dust Bagatelle Boxes is in this blog post, plus here's her supply list.
Note: check the Giveaway below for a photo showing a ton of little bottles that fit in the boxes.


New & Back in Stock Supplies!

Highlights from the Frames & Fairies FLASH SALE!
Click: FLASH SALE to see everything (99 items)!


MORE ARTWORK? (Or now for something completely different…)
Wow! Design Team Member Laura Carson used TWO of the Bagatelle Box – 1-1/2 x 4 Inches (stacked on top of each other, laying horizontally) on a 1:12 scale dollhouse table to make a secretary! (See the photo at left… and those cubbies on either end of the boxes — like the one on the left side with scrolls inside: matchboxes!)
The secretary was inside Ghostmore Manor: part of Laura's Haunted Village… the final installment of her fab Haunted Village Series from 2015.
The printed top of that secretary (plus a zillion spooky trims from the project) are on the Ghostmore Manor Collage Sheet Set (or its digital companion: Ghostmore Manor Set Download).
More info on Laura's project is on this post, and quite a few items from the supply list are still available.

Tiny Boxes & Bottles Giveaway!
As promised, see below for photos of the boxes grouped together, and for a sampling of glass bottles that fit in the boxes (read on for which they are).
The Giveaway includes:
– ALL SIX of the Bagatelle Boxes
– Nichola's Fairy Dust Collage Sheet
– Miniature Bookplates Die-Cut Set (used all over the place in Nichola's artwork… see photo above)
– Stackable Labels Die-Cut Set (see 2 pics in the bottom right of the photos below)
– A tons of bottles! Here's the list of all shown PLUS a couple extras (same height but not shown in photo, so all will fit just fine). Yes, I'm including ALL of the bottles in that link! (Note: for more specific info on the bottles, there's a photo with captions of the bottle names on the 2×3″ and 1.5×4″ box pages — those are the 2 boxes used in that photo.)

To enter the Tiny Boxes & Bottles Giveaway drawing all you have to do is leave a comment BELOW on this blog post TODAY or TOMORROW (the deadline is 11:59 pm PST, Friday Night, February 1, 2019).
And what are you going to make with all those tiny boxes?
Don't forget to leave your (hello!) correct email address, too, so I can contact the winner; your email address does not need to be made public. Note: I'm offering free shipping, too, but only within the USA. International shipping will still apply.
Please be patient! Spammers try to post crap here a lot so comments are moderated. So if you don't see your post in the comments section, be patient and check back in a few hours before re-posting it, please!
After midnight, I'll randomly pick the winner (via Random.org).
Hey, who won the Revisiting the Land of the Butterfly Queen Giveaway from Sunday's newsletter? That would be Lynn Fox! Congrats! Check your email for info.
Posted by Leslie, January 31st, 2019