Reminder: The Design Team Call is still open! Note: you can apply as a paper crafter, collage artist, rubber stamper or miniaturist! Short story: deadline for submissions is January 31, 2019. Looking forward to seeing your artwork!

OK… maybe not everything new (or back in stock) today is about Easter. But there ARE many rabbits!
Before I show you the new cast metal miniatures (which are adorable!) I thought I'd revisit Design Team Member Shannon Cooper's sweet A Hutch of Vintage Toys (shown at right, which was right before Christmas but that was such a whirlwind you may or may not have taken a peek).
Shannon did such a great job painting the metal minis that are the starting point of many of those toys (Mr. & Mrs. Rabbit — hey, they'd be perfect for Easter, too! — and that gnome on the top shelf… and Mother Goose and the Kewpie Doll on the right side of bottom 2 shelves).
Shannon just used acrylic paint on the figurines (after washing them with dish soap). If you'd like more info on her Hutch of Vintage Toys, see this blog post.
Now, moving on to some new cast metal minis… and did I mention they're on sale?! More info on the FLASH SALE after the eye candy.


New Miniatures!
Cast Metal Miniatures ON SALE!
The whole section is on SALE at 30% off, including all those metal minis shown above!
Over 40 options… and check out the 4 highlights below, too.
The sale ends at midnight on Friday night, January 25th.
Click: FLASH SALE to see everything!


MORE ARTWORK? I was trying to find an example of painting some of the metal minis more easily (like spray-painting them a solid color) and I remembered this wonderful Alice/Halloween mash-up by Teri Calia!
See the black sugar bowl on the table? (It has a lid and 2 handles.) That started as a cast metal mini, which was spray-painted black (then I think Teri added some dry-brushed acrylic highlights).
She painted a set of cups & saucers in bright colors to make her stack of teacups just to the left of that sugar bowl (those are plastic teacups with some tiny metal spoons added).
Also a spray-painted combo is a chair, with small plastic bones glued on as "arms" (and a skull at top) before the whole thing was painted black (see "before" at right). (Psst… that specific chair has sold out but this black chair is the same size.)
More info on Teri's project is on this post. Note that many items have since sold out as this was awhile ago, but… this leads me to:

The Alice's Tea/Metal Minis Giveaway!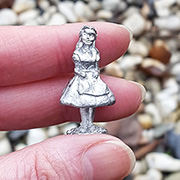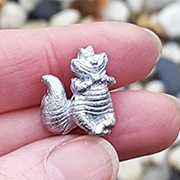 Some of Teri's supply list is still available on the new site, and these items from that list are included in today's Giveaway:
– A Cast Cheshire Cat Figurine and a Metal Alice in Wonderland Figurine (see the photos below… these are on a shelf above the table that isn't visible in the photo above); a bit hard to see as they are both painted purple against black flourishes…
– Small Chipboard Victorian Wall Shelf (so you have the wall shelf, too!)
– Halloween Clock Faces Collage Sheet (for the big orange, smiling clock image on the back of the shelf!)
– Simple Cups & Saucers Set – Set of 12 (like her wacky stack of colorful cups)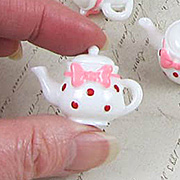 PLUS a couple more things Teri used are still on the CLEARANCE site and are also in the Giveaway package:
– A Polka Dot Resin Teapot (repainted black with orange dots and bow)
– A 1-1/2 Inch Mushroom (Teri painted one as a seat at the table)
To enter the Alice's Tea/Metal Minis Giveaway drawing all you have to do is leave a comment BELOW on this blog post TODAY or TOMORROW (the deadline is 11:59 pm PST, Friday Night, January 25, 2019).
Don't forget to leave your (hello!) correct email address, too, so I can contact the winner; your email address does not need to be made public. Note: I'm offering free shipping, too, but only within the USA. International shipping will still apply.
Please be patient! Spammers try to post crap here a lot so comments are moderated. So if you don't see your post in the comments section, be patient and check back in a few hours before re-posting it, please!
After midnight, I'll randomly pick the winner (via Random.org).
Hey, who won the MORE BEES are Back Giveaway from Sunday's newsletter? That would be Maria B! Congrats! Check your email for info.
Posted by Leslie, January 24th, 2019