What's new today? 2 new shrines, 2 art projects, and a FLASH SALE on mini toys!
And see Santa's note at right about receiving packages before Christmas? That deadline is Wednesday night.
Though if you're like me, receiving a package of goodies to use for crafting after December 24th will be like Christmas morning all over again!

New Artwork #1: Deliciousness by Rhonda Thomas!
Wow! Design Team Member Rhonda Thomas was surely inspired! Her Deliciousness is such a flurry of pink Christmas goodies!
Rhonda started this project with the new Larger Square Shrine Shadowbox – Deep (the deeper one shown at left). And good thing she planned on using that deeper version, as she fit the 1:12 scale Gothic Trestle Table inside!
Everything looks so inviting: from the frosted cakes & cookies (and frosted sleigh… and even the ceramic beads in the sleigh are frosted) to the decorated pink trees, and a sleeping cat wrapped in tinsel under the table. Oh, and the Leaf Gingerbread Trim Strips and Scalloped Gingerbread Trim Strips are perfect for the front of the table and the top of the shrine.
From Rhonda's blog post:
The Joy of the Season, the rich, yummy goodies that go to my hips. Creating this delicious little beauty only made my cravings worse! But it's for your eyes only, not your tummy.
Beside these highlights (above and below), here's the full supply list! And be sure to visit Rhonda's blog for more photos and tips!

Highlights from Rhonda's Supplies

New & Back in Stock Products!
Hooray for the Toys & Sweets Giveaway!
AND… Art project #2, by Design Team Member Shannon Cooper: A Hutch of Vintage Toys!
Oh my… this is just the sweetest group of toys! I love the mix of collage sheet images, pre-made dollhouse toys, and hand-painted (cast metal) toys that Shannon mixed together (and painted)!
Here's a bit from Shannon's blog post, then I'll explain what's in the Giveaway prize:
I've been hoarding a small collection of cast metal toys from Alpha Stamps for quite some time but hadn't gotten around to doing anything with them. Truthfully, I liked them because they are tiny and cute (and just flat out wanted them for no reason whatsoever). Then Leslie sent me a really sweet hutch where all my precious-es could be displayed, so I got to work painting them. There was plenty of room on the deep shelves to add tons of other wee toys, too.
I covered the shelves with holly paper from the Jingle 6×6 Paper pad, which is quickly becoming my favorite holiday paper. All of the prints work for miniatures and small projects. The vintage games, book cover, and other images (toys and vintage cards) are from collage sheets; the box of marbles on the bottom shelf is a miniature cigar box!
Painting the cast metal was fairly easy. I washed all of the pieces in dish soap and scrubbed them with a toothbrush then toweled them dry. It was nice to discover regular acrylic craft paint (in several layers) covered the metal. I only had one instance where the paint chipped off. It involved a snooping cat that, of all the toys on the table, sent Mother Goose to her demise after pawing her a bit too far. Mother Goose's tail feathers took the brunt of the fall, so all was well, and the cat looked pleased.

First off for this Giveaway: I'm including these goodies from Shannon's supply list:
– All FOUR of the collage sheets with toys & game/book covers!
– The teddy bear, rabbit and gnome from the top shelf of the hutch (note that the rabbit is actually part of a set of 3; also note that the gnome is unfinished cast metal so you'll get a chance to try your hand at painting).
Next up: this flurry of miniature cakes from Rhonda's project! (That's a link to THIRTEEN slices of cake! Not "just" that set of 8 shown at left, though they're included, too!)
Finally, you'll get BOTH of the new shrines! That is: if you don't mind the 2 I taped together for taking photos.
To enter the Toys & Sweets Giveaway drawing all you have to do is leave a comment BELOW on this blog post TODAY or TOMORROW (the deadline is 11:59 pm PST, Monday Night, December 10, 2018).
Don't forget to leave your (hello!) correct email address, too, so I can contact the winner; your email address does not need to be made public. Note: I'm offering free shipping, too, but only within the USA. International shipping will still apply.
Please be patient! Spammers try to post crap here a lot so comments are moderated. So if you don't see your post in the comments section, be patient and check back in a few hours before re-posting it, please!
After midnight, I'll randomly pick the winner (via Random.org).
Hey, who won the Wine for Christmas Giveaway from Thursday's newsletter? That would be Kathe Deck! Congrats! Check your email for info.


Miniature Toys ON SALE!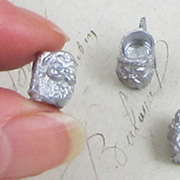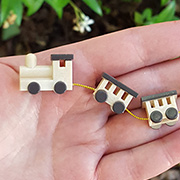 Yes, yes… I finally got to this section! This is a FLASH SALE that ends at midnight on MONDAY night, December 10th.
30% off on ALL Miniature Toys! 30 options… including the 4 highlights below (and quite a few in Shannon's artwork).
Want even More Toys or Metal Minis? There are a few left on the Clearance site (50% to 80% off)! Like the 2 at right: Tiny Train Set and Santa Head Mug (hey, that one's in Shannon's art, too — see the painted mug on the top shelf of the hutch). Here are the links to the Miniature Toys Section and Cast Metal Miniatures on the Clearance site!

Click: FLASH SALE to see everything!
Posted by Leslie, December 9th, 2018