Ok… I don't think Santa's the one being naughty… but you (or someone you're making gifts for?) may be!
We've got new art today by 2 Designers who both went down this "Wine for Christmas" path… plus a related FLASH SALE on Food & Beverage Minis!

New Artwork!
All I Want For Christmas (is wine) by Design Team Member Shannon Cooper!

I love this "wine tree" by Shannon! She used 3 colors of the Blank Miniature Wine Bottles (plus glasses… and candy canes) to hang on her 4″ tall tree. AND just look at that Santa peaking out from behind the tree! And the little soldier… does he have his hand up to his face 'cause he's blushing? or is he whispering something?
Here's a bit to get you in the mood from Shannon's blog post:
'Tis the season for handmade presents! It's the month that I pull out the half-dozen unfinished gift projects that I started on ages ago "to get a head start on Christmas", the ones that were meant to be done by October and make me feel accomplished… well, that didn't happen. It'd be nice to decide to finish these WIPs, but I know that they will all get tossed back in the bin and I'll start all over because… oh, look! A squirrel!
I restarted my gift making by creating a snarky little matchbox for my wine-loving friend. (We have that in common. It is the reason we like each other so much.) I used two cheeky collage sheets and a 3″ x 5″ chunky matchbox for a fun scene. The front of the box shows a rosy cheeked Santa:
The side is also NSFW.
And the inside is a miniature version of my friend's Christmas wish.
Read more (and see lots more photos) in Shannon's blog post. And here is her supply list (plus a few of these maaaaay have made their way into today's Giveaway prize)!
Psst: check below in the Giveaway for ANOTHER new Christmas project by a different Design Team Member!


New Goodies!

Food & Beverage Miniatures ON SALE!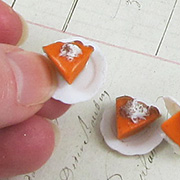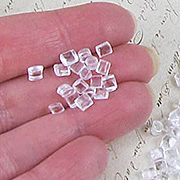 FLASH SALE! This is a 25% off sale on ALL Food & Beverage Minis! (Note: that includes bottles & jars with food or drink in them… we split up the giant stock of kitchen items, and bottle blanks without food inside (and empty dishes) are in other sections.)
With all the drinking & decorating above, I thought some mini food & drink props would be in order! 38 options… including the 4 highlights below.
The sale ends at midnight on Friday night, December 7th.
Want even More Food & Bev Sale Miniatures? There are a few left on the Clearance site (50% to 80% off)! Like the Pumpkin Pie Slice and Miniature Ice Cubes shown at right. Here's the link to the Food & Beverages Section on the Clearance site!

Click: FLASH SALE to see everything!


Hooray for the Wine for Christmas Giveaway!
Another wine-infused project: He sees you when you're drinking by Design Team Member Kristin Batsel!
I'm just going "shopping" from Kristin and Shannon's supplies for today's Giveaway. Starting with Kristin's artwork:
– Jingle 6×6 Paper Pad (it's actually used in Shannon's project, too)
– Miniature Wine Bottles (also part of the flash sale!)

– Miniature Cocktail Glasses w Stems (next to the aqua deer; and see below about the cosmo in that glass in Kristin's shadowbox!)
Note: Kristin used a vintage ornament box, but I'm substituting the Tiny Diorama Box AND the matching collage sheet!
And before I forget: click on this Supply List link for photos and links to everything in Kristin's artwork at left! And see more photos of the project in Kristin blog post.
Then moving to Shannon's artwork (from above):
– All 3 colors of the Blank Miniature Wine Bottles decorating her tree (note: these are true 1:12 scale and smaller than the oversized bottle decorating Kristin's shadowbox)
– The 2 collage sheets with tiny labels she used on those bottles
– The Sassy Santas Collage Sheet (for that Santa peeking out!)

Bonus: See that little photo at left? I discovered the NEW Mini Bronze Box Feet fit well on that tiny 2×3 matchbox, and I'm including both the new box feet AND that little shadowbox, too!

To enter the Wine for Christmas Giveaway drawing all you have to do is leave a comment BELOW on this blog post TODAY or TOMORROW (the deadline is 11:59 pm PST, Friday Night, December 7, 2018).
Don't forget to leave your (hello!) correct email address, too, so I can contact the winner; your email address does not need to be made public. Note: I'm offering free shipping, too, but only within the USA. International shipping will still apply.
Please be patient! Spammers try to post crap here a lot so comments are moderated. So if you don't see your post in the comments section, be patient and check back in a few hours before re-posting it, please!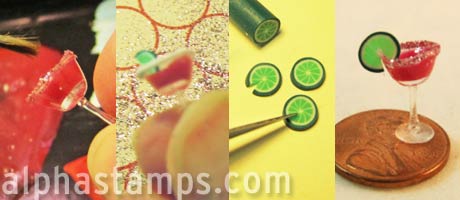 After midnight, I'll randomly pick the winner (via Random.org).
Hey, who won the Christmas Nostalgia Kit Giveaway from Sunday's newsletter? That would be Linda B! Congrats! Check your email for info.

Psst! See that cosmo in Kristin's shadowbox (and shown again at right)? She previously posted a tutorial on making it in her blog!
Posted by Leslie, December 6th, 2018