Reminder: ALL Christmas Collage Sheets AND Angels and Saints Collage Sheets are on Sale at 50% Off! That's over 140 options! There's still time to download some digital images or collage sheets for making last-minute gifts!
The sale is through Sunday night, December 24th (Christmas Eve!)
Speaking of Christmas, I've just posted info on the "While the Catís Away…" After-Christmas Sale. Note: we are working this week but I cannot guarantee any orders will arrive before Christmas. Still, a little gift for yourself to arrive the week after Christmas would be something to look forward to…

Fairy Godmother's Wardrobe by Design Team Member Nichola Battilana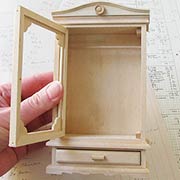 Oooh! This is fab! I've been wondering what this new wooden cabinet would be turned into…
I've been sitting on this project for a couple of weeks. I received an Unfinished Wooden Wardrobe and had a few ideas. I thought of a magical portal, storage for a saucy burlesque star, something pink and filly and Marie Antoinette. Why not all rolled up into one?! A fairy godmother wardrobe!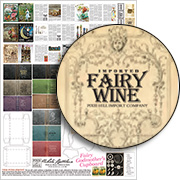 I love the pink/glittery cabinet (and all the trinkets inside)! Note: Nichola is going to follow up with a second blog post later this week with a "how-to for some of the wee bits inside."
There are books about magic and kissing frogs and toads, a tea pot and postcard memories. Godmotherly magazines. Pumpkins appear throughout (I've given them a wash of orange to add more colour.)
And Nichola created a new Fairy Godmother's Cupboard Collage Sheet with all the paper items, book covers, magazines, postcards, photos, labels, and posters inside the cabinet!
Read more in Nichola's blog post and/or see everything from her supply list. And check out the Giveaway below, as you could win tons of her supplies!



Bonus: have you been following that crazy-busy Nichola's blog? I neglected to point out a delightful project using tons of 1:12 scale toys that she posted on December 1st: her Jollymaker's Toy Store Window!
I spy a:
Jester Jack-in-the-Box Toy,
Painted Rocking Horse,
Tiny Resin Teddy Bear,
Tiny Train Set,
Xylophone Pull Toy,
Mini Clown Jack-in-the-Box,
and a bunch of wrapped packages in a red wagon!
Plus the Classic Christmas Chimney Bricks Scrapbook Paper (that made quick work of creating vintage brickwork) and Half Scale Widows Walk Fencing around the top.
Go check it out; it's beautiful!


Reminder: FREE Gift with all orders ends Tomorrow Night: Angels or Demons?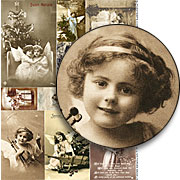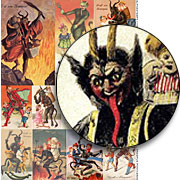 I created 2 new collage sheets in honor of Thursday's artwork:
– Krampus Postcards Collage Sheet
and
– Victorian Angels Collage Sheet,
either of which would provide even more images for creating a similar project as Bella's or Rhonda's. (And both are on sale as part of the Christmas collage sheet sale!)
So back to this free gift: Angels or Demons? Your choice of the 2 new collage sheets. Just leave me a note on your order. If you don't specify, I'll pick one.
ALL ORDERS through Monday, December 18 (2017) will receive one of the 2 new collage sheets FREE! And all-digital orders will receive their choice as a pdf file.


Hooray for the Fairy Godmother's Wardrobe Giveaway!
Yay! So many cool little things are in Nichola's project that I just went shopping! This Giveaway includes:
– Fairy Godmothers Cupboard Collage Sheet (new & created by Nichola!)
– 1 Inch Hat Stand
– New Unfinished Wooden Wardrobe (Wow!)
– Pink Resin Perfume Bottle
– Mini Mason Jars – Set of 3
– Fairy Godmother Wand
– 3D Star Spacer Beads
– Courtship Lane East Plaza Scrapbook Paper (the paper inside and on the front of the wardrobe — plus it's on sale!)
Here's a link to everything in Nichola's supply list (including the subset in this Giveaway, so you can see photos of them all).
Bonus: I'm including all 3 of the new shiny confetti mixes (they just seem like something a fairy godmother could use!) AND I'm including the new 1:12 Wooden Clothes Hangers and 1:12 Champagne Bottle (as they would make perfect substitutes for the hangers and wine bottle that Nichola used).
To enter the Fairy Godmother's Wardrobe Giveaway drawing all you have to do is leave a comment BELOW on this blog post TODAY or TOMORROW (the deadline is 11:59 pm PST, Monday Night, December 18, 2017).
AND tell me: What will you make? (Pink fairy wardrobe? Something else?)
Don't forget to leave your (hello! correct) email address, too, so I can contact the winner; your email address does not need to be made public. Note: I'm offering free shipping, too, but only within the USA. International shipping will still apply.
Please be patient! Spammers try to post crap here a lot so comments are moderated. So if you donít see your post in the comments section, be patient and check back in a few hours before re-posting it, please!
After midnight, I'll randomly pick the winner (via Random.org).
Hey, who won the Everything New Giveaway from Thursday's newsletter? That would be Barb MacAskill! Congrats! Check your email for info.
Posted by Leslie, December 17th, 2017