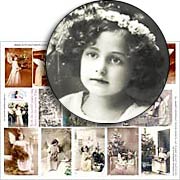 Before we get to artwork and new supplies, a new sale!
ALL Christmas Collage Sheets AND Angels and Saints Collage Sheets are on Sale at 50% Off! That's over 140 options! There's still time to download some digital images or collage sheets for making last-minute gifts… like the Christmas Angels Collage Sheet shown at right (and used in Bella's artwork) or the TWO new collage sheets announced today!
Through Sunday night, December 24th (Christmas Eve!)

Ghosts of Christmas Past by Miz Bella (Kimberly Ayers)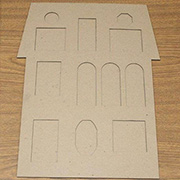 Now what is this about Angels or Demons? Well, both Bella & Rhonda used Large Haunted Houses today, one with a nostalgic/angelic design (love the sepia colors… see the first wide photos below), and the other… well, we'll wait a bit to explore a way different shadowbox by Rhonda!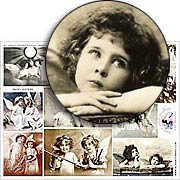 Bella used the Large Haunted House Frame Set (the same house shape with window cut outs as the deeper shadowbox version, but the frame set has a flat/solid house shape as the back).
Walking through the forest you might come upon an odd home that is slowly being covered in moss.
Looking up at the windows, you will find that there are many ghosts from long-lost Christmas times. Each room a memory of times long gone by, carefully maintained with the joy and wonder of a child.
Bella's blog post and supply list.

Picture perfect on the outside, but what is on the inside? by Design Team Member Rhonda Secrist Thomas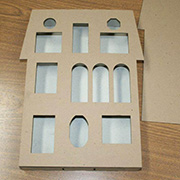 Wow! Talk about a whole different effect (especially on the inside)!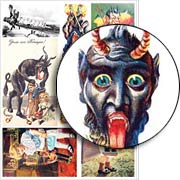 Rhonda used the deeper Large Haunted House Shadowbox (and about everything she could lay her hands on!) to make a whole storybook of bad children scenarios… breaking statues with a hammer? Raiding the stockings before Christmas?
Driving on a winters day, viewing the lovely cottages and Tudor homes. What a picture perfect world this family must live, inside of their wonderfully, grand home.
I would imagine the inside is just as beautiful with a perfect husband and wife, and wonderfully behaved children. Well think again!

Hm… seeking Krampus made me remember this video from my fave local art store: Castle in the Air (from last year's "arrival of Krampus" parade… it's freezing here now (and pretty much all over the country) so the t-shirt-clad spectators look a little out of place… but perfect for a Berkeley crowd). Not as scary as a European video of a Krampus parade, but I'm happy for what I can get!
Read more (and see many more photos) in Rhonda's blog post and explore her supply list. And read on for a FREE gift inspired by Angels and Demons…

Inspired by both of today's projects: a new FREE gift kit!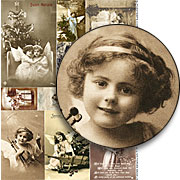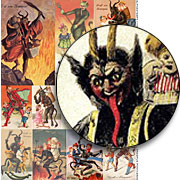 I created 2 new collage sheets in honor of today's artwork:
– Krampus Postcards Collage Sheet
and
– Victorian Angels Collage Sheet,
either of which would provide even more images for creating a similar project as Bella's or Rhonda's. (And both are on sale as part of the Christmas collage sheet sale!)
So back to this free gift: Angels or Demons? Your choice of the 2 new collage sheets. Just leave me a note on your order. If you don't specify, I'll pick one.
ALL ORDERS on Thursday through Monday, December 14 – 18 (2017) will receive one of the 2 new collage sheets FREE! And all-digital orders will receive their choice as a pdf file.


Hooray for the Everything New Giveaway!
One each of all the new items announced today! Including both new collage sheets PLUS a bonus: one more collage sheet (of your choosing) from the 2 sale sections!
So go check out the options, and leave me a note for what your choice would be on your comment:
Christmas Collage Sheets
Angels and Saints Collage Sheets
To enter the Everything New Giveaway drawing all you have to do is leave a comment BELOW on this blog post TODAY OR TOMORROW (the deadline is 11:59 pm PST, FRIDAY, December 15, 2017)!
Don't forget to leave your (hello! correct) email address, too, so I can contact the winner; your email address does not need to be made public. Note: I'm offering free shipping, too, but only within the USA. International shipping will still apply.
Please be patient! Spammers try to post crap here a lot so comments are moderated. So if you donít see your post in the comments section, be patient and check back in a few hours before re-posting it, please!
After midnight, I'll randomly pick the winner (via Random.org). So check your mailbox on Sunday morning to see who won and for the next Giveaway and Newsletter!
Hey, who won the Sparkly Snowflakes & Stars Giveaway? CG! Congratulations! Check your email for more info.
Posted by Leslie, December 14th, 2017