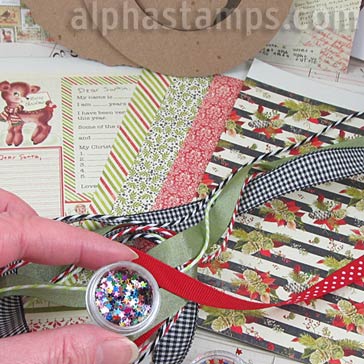 NEW Ornament Frame Set Kit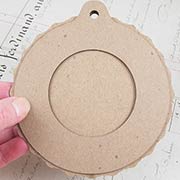 This kit includes a new chipboard ornament set (a simple set of a front piece with a window and a flat back with a scalloped edge — both with a hole for hanging). I designed this year's ornament to have space for decorating (around the edges of the main image you put in the center).
Plus 12 mini papers with zippy Christmas prints, star sequins, ribbons for decorating or hanging AND a new collage sheet with fun images for the center.
Beside the 2-layer, Round Ornament Frame Set (exclusive to this kit), this kit contains: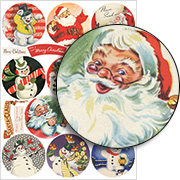 Collage Sheet:
– Retro Xmas Round Ornaments Collage Sheet (Wow! There is so much mid-century cute here you may faint!)
Scrapbook Paper:
– TWELVE 6″ x 6″ double-sided papers — one each of all the patterns in the Vintage Christmas 6×6 Paper Pad.
Trims:
– SIX yards of ribbons (a subset of a new ribbon set linked below)
– 2.5mm Multicolor Star Sequins (A bunch of tiny stars in a cute little plastic "tin". The lid screws on so you (hopefully) won't end up with stars all over the floor.)

Check out our collection of collage sheets with 2-1/2″ round designs that fit all 3 of the new ornament frame sets.
Artwork! See the first wide photo below for an adorable snowman ornament by Teri Calia (with the central image coming from the Retro Xmas Round Ornaments Collage Sheet)! Teri used the Ornament Frame Set – Bauble as her starting point, added papers from the Tim Holtz Christmas 8×8 Paper Stash, tons of snowflake and star embellishments, and made some little drippy snowdrifts with a Dimensional Snow Writer. More info and photos in Teri's blog post, and here's a link to see all her supplies (that's for 2 ornaments… more on that 2nd one in a sec).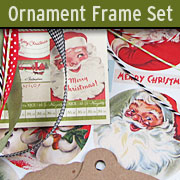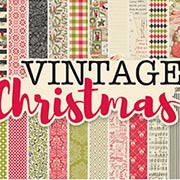 More info about the new kit is on the Ornament Frame Set Kit page.
More Artwork! Santa and Snowman Ornaments (see the second wide photo below) are by Design Team Member Kristin Batsel! So bright and cheery! Kristin used the Ornament Frame Set – Star and Ornament Frame Set – Round as the base of her projects, with lots of papers and ribbons from the kit. Plus she shows how to use Dresden border strips (straight) around a curve (like the turquoise scallops around the center of the snowman ornament). More info in the Kristin's blog post. Here's Kristin's supply list so you can see all the extra trims Kristin added.

Wow! I love everything about this ornament by Teri Calia! Teri started with the new kit (for the chipboard frame set, the green ribbon, and the central Santa image (and the "Santa Claus" banner underneath).
Here are a couple more things Teri added:
– Rusty Star Ornament Set (a nice contrast with all the sparkle)
– Tiny White Snowflake Buttons (bunches of snowflakes!)
– Holiday Disguises Collage Sheet (that Santa hat over on the right side of the ornament almost looks like a 3D felt hat!)
Note: Although not used in Teri's ornament, the Silly Snowmen Ornaments Half Sheet is another cute option that fits the ornament frames!
Posted by Leslie, October 29th, 2017