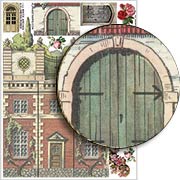 Eek! You are going to LOVE the new Halloween room box by Teri Calia! But first a tiny reminder about the sale ending TOMORROW. (And more info on the Alice/Tea FREE gift related to Teri's project is below.)
Continuing from Thursday and ENDS TOMORROW night, October 16th (2017):
EVERYTHING in the Paper Theatres Collage Sheets section is on sale!
Laura Carson's House Of Ghosts from Thursday's newsletter included lots of windows and other architectural trims (all distressed to look old and abandoned). So I picked out a collage sheet section that includes windows (or curtains)… 87 options! The sale ends Monday night!

Halloween in Wonderland Room Box by Teri Calia
Everything about this project is sooo perfect for Halloween: the color palette is loverly, the reupholstery of the footstool in an orange and black checked fabric is too cute, all the treats on the table (including tiny painted cookies) are bright and colorful (see a close-up below), and the little scene on the wall shelf with painted figurines in purple… a purple Cheshire cat is inspired!
Today's project is one of my favorites as it combines two of my favorite things, Alice in Wonderland and Halloween. I started off with a Corner Room Box, then covered it with some Halloween in Wonderland paper. A little black paint and some black Dresden to give the outside a polished finish and I was all set to add a scene.
I chose to do a tea party in my scene because I love miniature tea sets and sweets. There wasn't a lot of room in my box for a tea table, soooo… I used the table parts in the Round Table & Chairs Kit to build half the table. I followed the instruction provided in the box and literally only built half of the table (the supports under the table need to be cut in half but everything else is already in halves).
I also needed a chair for my tea party, so, I built one of the chairs in the kit and added some spooky extras… a Tiny Resin Skull was glued to the back of the chair and two Resin Boneyard Bones were glued to the sides of the chair instead of the supports from the kit. I sanded down the backs of the bones where they glued onto the chair, with an emery board, so they fit well before I glued them in place with Non-Toxic Cement for Plastic Models.
Read more in Teri's blog post (including how she sprayed all the pieces to be painted with primer). And here's a link to her Halloween in Wonderland Room Box supply list.
And be sure to come back and enter the Giveaway, to win lots of supplies from Teri's project!

Highlights from the New Goodies! – ALL on Sale! View all new items


Resin Boneyard Bones


Art Nouveau Winged Women
Back in Stock
New FREE Gift: Teatime for Halloween Gift Kit
Ah… super cute: a teapot, one set of teacup plus saucer, and 2 mini scrapbook papers:
– Halloween in Wonderland – Square Hare
and
– Moonlit Masquerade (that I think would be perfect to cut into tiny placements).
Except for that last paper, all of these items are also used by Teri in her room box! (Note: I'm showing fronts & backs of the 2 papers in the photo — and both sides are useful for Halloween.)
ALL ORDERS on Sunday through Wednesday, October 15-18 (2017) will receive one of these mini kits FREE (until we run out)!


Hooray for the Teatime in Wonderland Giveaway!
I just had to zoom in on that fabulously spooky chair that Teri made! I love how she replaced the chair arms with bones (and see the little inset below for how it looked before being painted).
So to start off this Giveaway: the bones, and table AND chair kit. (See Teri's blog post for info about how she used just half of the round table, to save space.)
Next up: the paper set that is covering front, back and floor of the room box.
Moving on to that table: You may not have recognized the teapot as Teri changed the colors from white and pink to black and orange: that teapot and a set of teacups is included, too! (It's so cute how Teri painted 3 of them in different, bright colors and stacked them.)
Note: those teacups and the teapot are the same ones included in the Teatime for Halloween Gift Kit!
Finally, check out that close-up in the lower right of the large photo: Teri made a skeleton flamingo! I'm not sure what little plastic flamingo figurine Teri painted, but I'm including the pumpkin and the Spun cotton mushrooms!
Psst! Here's a link to everything Teri used for her project, though not everything listed is in this Giveaway.

To enter the Teatime in Wonderland Giveaway drawing all you have to do is leave a comment BELOW on this blog post TODAY or TOMORROW (the deadline is 11:59 pm PST, Monday Night, October 16, 2017).
AND tell me: This is a lot of items… what will you make? Your own version of Teri's room box scene? Multiple projects?
Don't forget to leave your (hello! correct) email address, too, so I can contact the winner; your email address does not need to be made public. Note: I'm offering free shipping, too, but only within the USA. International shipping will still apply.
Please be patient! Spammers try to post crap here a lot so comments are moderated. So if you don't see your post in the comments section, be patient and check back in a few hours before re-posting it, please!
After midnight, I'll randomly pick the winner (via Random.org). So check your mailbox on Thursday morning to see who won and for the next Giveaway and Newsletter!
Hey, who won the The Ghost Queen Giveaway from Thursday's newsletter? That would be Catharine McCammon! Congrats! Check your email for info.
Posted by Leslie, October 15th, 2017