Continuing from Thursday and ENDS TOMORROW night, October 9th: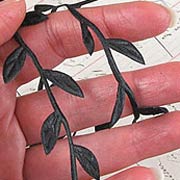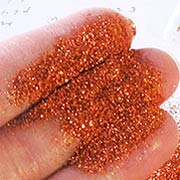 With all the glittery bats in Thursday's Ghost in a Glitter House AND ribbons (just being a necessity for making a banner), I thought TWO SALES were in order! EVERYTHING in the Glitter, Tinsel, Rhinestones (& Misc Shiny Things) section is on sale for 30% off!
AND Solid Color Ribbons are on sale for 50% off!! Actually, some things in that section are 80% off as they're on clearance sale!
Tons of fun stuff… 145 items between the 2 sections. Both sales ends Monday night, October 9th!
RELATED FREE GIFT with ALL Orders through Monday Night: FREE Mini Halloween Banners Starter Kit!
Papers in shades of green (lime!) and orange plus some black & white chevrons. Plus ribbons and glitter! More info in Thursday's newsletter.


Ghost in a Glitter House
by Design Team Member Shannon Cooper
This is the first of TWO Halloween projects by Shannon! Check the Giveaway below for info on the second one.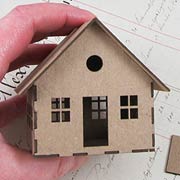 Putz houses have to be one of the greatest things on the planet. They are small, charming, and covered in GLITTER. What could be better than that? But it is not quite time for Christmas crafting, so I made a Hallowe'en version instead. Alpha Stamps has a miniature House Ornament that happens to be perfect for making your own glitter house. I think an entire village of shimmering houses in orange, purple, green, and black would be the bat's wings!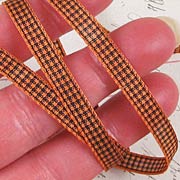 I glued the house together, painted it orange and the window frames silver. The window trims were painted black and then dipped in a pile of black glitter. After gluing on the window trims, each side of the house was slathered in glue and dusted (more like enveloped!) in orange glitter. The roof was added and covered in black glitter, and finally the chimney was glued on top.
I love the candy corn trees, even though my kids informed me that "candy corn is orange in the middle and yellow at the end, geez, Mom!" The trees are dyeable bottle brush trees painted with acrylic paints.
And check out the "before" and "after" photos at left: The ghost glows! Before assembling the roof, I cut a hole in the floor of the house that was the same diameter as the flame of one of those LED tea lights. The base also got a hole so the flame of the tealight could be inserted from the bottom and poke through the floor.
Read more (about both of Shannon's projects) in her blog post. And here's a link to her Ghost in a Glitter House supply list.
And be sure to come back and enter the Giveaway, to win lots of supplies from BOTH of Shannon's projects!

Hooray for the Halloween House & Blocks Giveaway!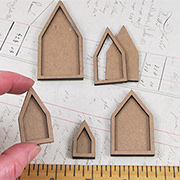 I love these EEK blocks! Super cute and super simple. Here's a brief intro from Shannon's blog post:
Because I want to make all of the Hallowe'en things, but locking myself in the craft room and ignoring my family is frowned upon, I crafted some quick EEK blocks for a friend. Tiny House Jewelry Pieces became row houses on top of 1″ blocks. I made crepe paper medallions and glued a vintage button on top, then added plastic letters to the front of each block. The houses were painted and decorated with collage sheet images, and that was that!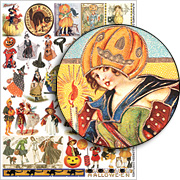 So to start off this Giveaway: all THREE of the items linked in that last paragraph (including 3 of the blocks), plus the 3 collage sheets for the images in the houses.
Psst! Here's a link to everything Shannon used for those blocks, though not everything listed is in this Giveaway.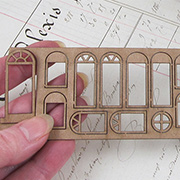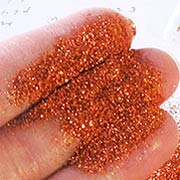 Back to the Ghost in a Glitter House shown above, here are a few more things that I'm also including in the Giveaway:
– House Ornament
– House Ornament Window Trims
– House Ornament Chimney & Dormers
– Pumpkin Orange Ultrafine Glitter (I'll send 2 as you may go crazy and glitter the blocks, too! And that glitter is also included in the glitter sale ending tomorrow! As is that cool new glitter shown above in the "New Goodies" section!)
BONUS: I'm including one of the FREE Mini Halloween Banners Starter Kits, too! Never know when you need more Halloween papers and more glitter!
To enter the Halloween House & Blocks Giveaway drawing all you have to do is leave a comment BELOW on this blog post TODAY or TOMORROW (the deadline is 11:59 pm PST, Monday Night, October 9, 2017).
AND tell me: This is a mixed bag of items… what will you make? Multiple projects?
Don't forget to leave your (hello! correct) email address, too, so I can contact the winner; your email address does not need to be made public. Note: I'm offering free shipping, too, but only within the USA. International shipping will still apply.
Please be patient! Spammers try to post crap here a lot so comments are moderated. So if you don't see your post in the comments section, be patient and check back in a few hours before re-posting it, please!
After midnight, I'll randomly pick the winner (via Random.org). So check your mailbox on Thursday morning to see who won and for the next Giveaway and Newsletter!
Hey, who won the Retro Kitty Cat ATC Banner Giveaway from Thursday's newsletter? That would be KIM! Congrats! Check your email for info.
Posted by Leslie, October 8th, 2017