Note: most of the links on this post no longer work, as we moved to a new Web site in 2018. But you can try searching on the same names (as links below) on the new site.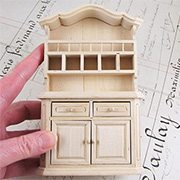 It's feeling a bit like fall today… new items with warm colors, some Halloween items, and some adorable 1:12 scale pieces of unfinished furniture just begging to be finished and decorated for a dining room.
But first: The Daystars by Design Team Member Nichola Battilana (cards with my favorite blue and gold palette) and part 2 of the tutorial by Shannon Cooper from Thursday's newsletter!
Oh, and a reminder about the current FREE gift and collage sheet sale (both ending tomorrow night, August 21st) are below.

Aren't Nichola's cards beeeeautiful!? They look so rich… and made from chipboard, paper and a bit of paint!
As Nichola mentions in her blog post:
I kept this project super simple. I just covered the cards in scrapbook paper and used a stamp and gold embossing powered to add a smidge of interest. Then, fussy cut elements and added the top frame (which I painted prior to gluing into place).
More from Nichola's post: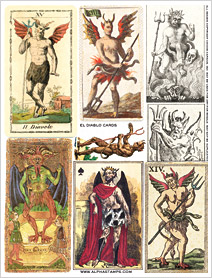 This month's kit is Cards & Constellations. Rather than a 'wish-upon-a-star' goodie goodie piece, I was smitten with these devilish fellows.
I'd like to imagine that these plucky little night devils would conspire, and try to plot a way to continue to shine after the sun rose. That they would want to be 'Daystars.'
Read more in Nichola's blog post, and see the Giveaway below for more info on the supplies (and how to win them)!

Now for something completely different…
From Thursday's loverly project by Shannon Cooper, here's part 2 of her tutorial (this one is for making the mattress for the bed, but be sure to check out the first part for the how-to on making the bed itself… yes, with the same Spider Web Wrought Iron Playing Card that Nichola used for 2 of her 4 cards).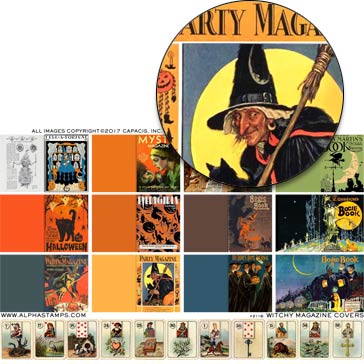 FREE Gift: Witchy Magazine Covers Mini Collage Sheet!
I was inspired by Shannon's Witch's Bed and Table (with a tiny bedside table in a witch's room — see the wide photo below or more info in Thursday's blog post) so I've not only made a new mini collage sheet, but have also put ALL Gypsy & Playing Cards Collage Sheets on sale for 50% off now through Monday Night!
First: the new Witchy Magazine Covers Mini Collage Sheet: Make some tiny props for a Halloween scene, in 1:12 scale. See the Miniature Fairy Godmother Magazines Collage Sheet for pages you can use inside magazines made with these covers (plus a tutorial from Nichola on making miniature magazines)!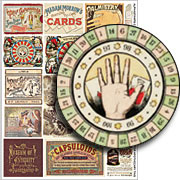 The new collage sheet will be sent FREE with every order placed August 17th through 21st. All-digital orders will receive the collage sheet as a pdf file.
Second: the Gypsy & Playing Cards Collage Sheets sale: there's a little overlap with the recent Mythology Collage Sheets sale, but many of these are not in that category — and used in Shannon's artwork. On sale for 50% off now through Monday, August 21st! Over 40 to choose from… go see them all!

Hooray for The Daystars Giveaway!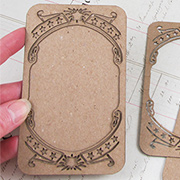 Yes! Here's all the goodies from Nichola's The Daystars cards to start off today's Giveaway:
– Spider Web Wrought Iron Playing Card (I'm including TWO)
– Stars Playing Card (I'm including TWO)
– El Diablo Cards Collage Sheet
– Double Dot Vintage Dark Denim Blue Scrapbook Paper
– Large Blue Mosaic Scrapbook Paper (used on the backs of the cards)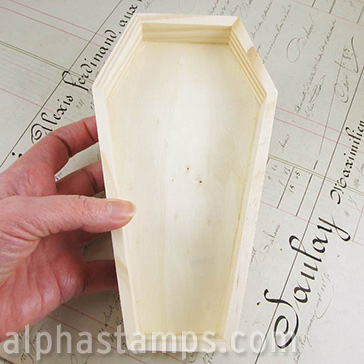 Bonus #1: One of the new Unfinished Wooden Coffin Trays! What? I didn't see those! It's true, there are lots of new goodies today, and not everything made its way into the "new items" section above! You can see all the new items here.
Bonus #2:Witchy Magazine Covers Mini Collage Sheet
To enter The Daystars Giveaway drawing all you have to do is leave a comment BELOW on this blog post TODAY or TOMORROW (the deadline is 11:59 pm PST, Monday Night, August 21, 2017).
And tell me: What will you make from the supplies from Nicola's Daystar cards? And will you mix them with the Unfinished Wooden Coffin Tray or use the tray in another project?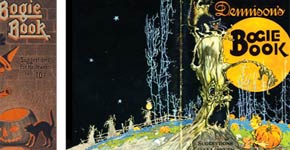 Don't forget to leave your (hello! correct) email address, too, so I can contact the winner; your email address does not need to be made public. Note: I'm offering free shipping, too, but only within the USA. International shipping will still apply.
Please be patient! Spammers try to post crap here a lot so comments are moderated. So if you don't see your post in the comments section, be patient and check back in a few hours before re-posting it, please!
After midnight, I'll randomly pick the winner (via Random.org). So check your mailbox on Thursday morning to see who won and for the next Giveaway and Newsletter!
Hey, who won the Witch's Bed Giveaway from Thursday's newsletter? That would be LeAnn! Congrats! Check your email for info.

Posted by Leslie, August 20th, 2017