That prolific Design Team Member Shannon Cooper is back today with a superb little Halloween shrine! Before we ooo and ahhh, here's a reminder about TWO sales and FREE kit, both ending tomorrow!
Continuing from Thursday and ENDS MONDAY night, July 31st:
FREE Starter Kit for Matchbox Vanities (a mini drawer-fronts collage sheet plus a filigree set for the front of the vanity)!
Maybe you don't have the time to make a paperclay embellishment like Bella used on the front of her vanity featured in Thursday's newsletter… that's ok as I photographed a couple metal filigree options!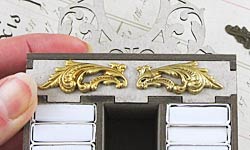 The brass filigree set at right is included in this FREE gift kit (and another option that fits nicely is shown on the Narrow Matchbox Vanity Table page). I've included some of the images from both the Matchbox Drawer Fronts Collage Sheet and Narrow Matchbox Drawer Fronts Collage Sheet so this can be used for either Vanity Table (and the filigree will fit either, too).
Free for ALL orders — through Monday night, July 31st!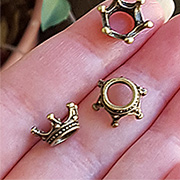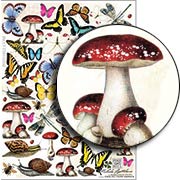 Also continuing from Thursday: TWO sales! EVERYTHING in the Fairies Collage Sheets section is on sale for 50% off!
30 to choose from (including the English Fairy Garden Collage Sheet shown!
PLUS the Doll Parts Charms (crowns, masks, wands, shoes, fans…) are also on sale! 35% off through Monday night, July 31st! Note: some of those items are in the clearance section so are on sale for 50% off!


I love this project! Shannon Cooper made a dark and easy Wednesday Addams Shrine using the new Half Scale Widows Walk Fencing around the bottom (and a variety of black or webby items… and that Meat Cleaver)!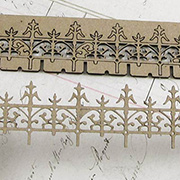 (Psst! Scroll down just a bit to see the back of the shrine; and there's another photo of the front down in the Giveaway section.)
Sometimes you need a little Hallowe'en in your life. Who am I kidding? There needs to be an abundance of Hallowe'en all the time! I decided to spend a few hours crafting, just for me, and made a Wednesday Addams Shrine to add to my growing collection of spooky things.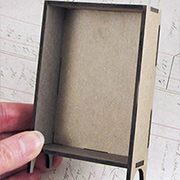 I started with an ATC sized shrine with feet, which is small and easy enough to transform in an afternoon. The shrine topper is a chopped up Miniature Reliquary, a snippet of black Halloween Mesh Web Ribbon, and two miniature flying bats (plus some spider webby background paper from the Moonlit Spider Web Network Scrapbook Paper).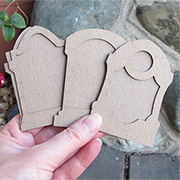 On the back is another slightly chopped reliquary and bat, but what really finished this project was the Half Scale Widow's Walk Fencing. Its gothic tininess around the base of the shrine worked out nicely. Plus, it is super cute at only 1″ high! After the bats, it is my favorite thing of the entire project.
Clever to add a piece of one of the Miniature Reliquaries on top as a shrine facade (and to frame the "I'M NOT PERKY" text)! And there's a quickie tutorial for getting the Meat Cleaver Charm to balance on its point on Shannon's blog post, too!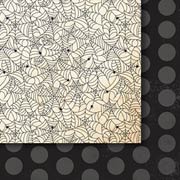 Here's a link to Shannon's supply list for the Wednesday Addams Shrine, and stop by her blog to read more and see more photos.
But be sure to come back for the new Halloweeny items (I love the new Embossed Brass Trims… not necessarily for Halloween but way cool) and to enter the Giveaway for a chance to win EVERYTHING in Shannon's supply list!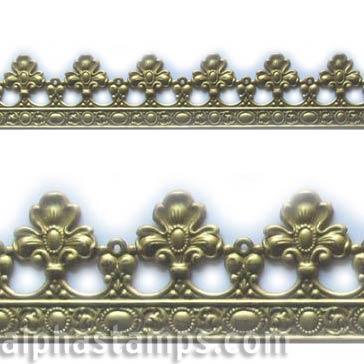 Hooray for the Wednesday's Child is Full of Woe Giveaway!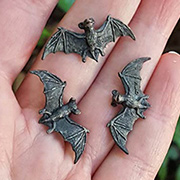 Here's a few highlights from Shannon's supply list. (Yes, all 10 items are included in today's Giveaway!)
– Miniature Flying Bats
– Meat Cleaver Charm
– Half Scale Widow's Walk Fencing – New
– Halloween Web Mesh Ribbon – Black (strips of it are at the top of the shrine)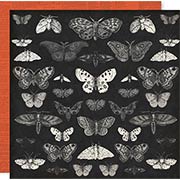 Bonus: A sheet of the new Spellcast Moths Halloween Scrapbook Paper (that will fit right in with this dark color palette).
To enter the Wednesday's Child is Full of Woe Giveaway drawing all you have to do is leave a comment BELOW on this blog post TODAY or TOMORROW (the deadline is 11:59 pm PST, Monday, July 31, 2017)!
And tell me: What will you make from your ATC Shrine? Will you use parts of the Miniature Reliquaries on top and on the back like Shannon did?
Don't forget to leave your (hello! correct) email address, too, so I can contact the winner; your email address does not need to be made public. Note: I'm offering free shipping, too, but only within the USA. International shipping will still apply.
Please be patient! Spammers try to post crap here a lot so comments are moderated. So if you don't see your post in the comments section, be patient and check back in a few hours before re-posting it, please!
After midnight, I'll randomly pick the winner (via Random.org). So check your mailbox on Thursday morning to see who won and for the next Giveaway and Newsletter!
Hey, who won the Matchbox Vanity Giveaway from Thursday's newsletter? That would be Kat Cashwell! Congrats! Check your email for info.
Posted by Leslie, July 30th, 2017