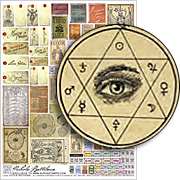 A new sale! EVERYTHING in the Dollhouse Miniatures Collage Sheets section is on sale!
The sale ends Monday night, July 17th 2017!
That includes the Little Potions Collage Sheet shown at left.
And the sale also includes TWO new Collage Sheets announced today (photos & info below)! Plus a few that Teri Calia used in her fab artwork shown below!
Over 100 to choose from! See them all!


Yay! Another chance to see 2 completely different ideas using the same new item! My fave!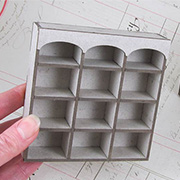 First is the tiny reproduction of Design Team Member Rhonda Secrist Thomas's real life craft studio (or a piece of it) using the new Storage Hutch and the 4 Inch Wide Chest of Drawers – 2 Drawers. (The second project today is by Teri Calia, and photos and more info is at the end of this post, down in the Giveaway zone!) Now back to Rhonda's fun project:
Welcome to my miniature art studio. Not only does my beloved hutch have multiple shelves, I also have two large drawers and a large desk top to work on. It's my favorite spot to play.
One can never have too many ink pads or paint brushes.
True to life, my miniature desk top is covered in paint, just like my real desk top.
Do you like my mini paint tubes? (Note: see the wide photo below for a close-up.) You will not believe how simple they are to make. I was inspired by this tutorial on Miniature Paints that I found on Pinterest. That place is addicting!
In the tutorial, she used some type of thin metal. I couldn't find mine so I used this adhesive silver tape I had instead. I trimmed a tad of the back paper off so I could use it to adhere my paint tube together.
To make each tube an individual color, I used washi tape in different colors and darker designs. Then put some white clay in the top and added color to make them look like paint was coming out.
Nice job, Rhonda! I love all the details. Rhonda used a collage sheet I designed specifically for her project: Tiny Craft Room Labels Collage Sheet (with all sizes of labesl: from the ridiculously tiny 4mm tall labels for the baby food jars to rubber stamp labels sized for the 1/4″ and 3/8″ strips of basswood (and lots of labels sized in between). Labels for rubber stamp ink pads, acrylic paint, gesso, and rubber stamp labels from our very own rubber stamps.
And check below 'cause the new FREE Gift Kit includes a mini set of wood strips and labels from this collage sheet to make some tiny stamps of your own.
Curious about some item you see in Rhonda's creation? Check out her supply list!

New Supplies! – ALL on Sale!


10mm Square Glass Bottle with Lid


Mini Drafting Tools Set
Miniature Paint & Stamps
FREE Gift Kit!
Since the artwork today by Teri and Rhonda both use the Even Tinier Bottles (and Rhonda also made adorable miniature wood-mounted rubber stamps using a 3/8″ wide Basswood Strip) I'm including 1 of the bottles and a little sampler cut (3″) of each of the 3 widths of basswood strips! PLUS a custom mini collage sheet with a few of the labels from the new Tiny Craft Room Labels Collage Sheet (sized to make rubber stamps with the wood strips — and note: the wood is really easy to cut to size) plus a few labels that will fit the bottle (in a couple styles). You can get the A Witch's Grimoire or Secret Spell Book Labels Collage Sheets for more witchy labels to fit the same bottles (and both used by Teri). I also added some from the Tiny Magic Books & Potion Labels Collage Sheet.
Free for ALL orders — through Monday night, July 17th 2017!


Hooray for the Wise Woman's Giveaway!
But first! Let's talk about the beautiful Wise Woman's Apothecary Cabinet that Teri Calia made (with the same hutch and chest of drawers as Rhonda's project). Note: there's a wide photo below with more images. To start, I'll quote some of Teri's intro from her blog post:
The Oxford Dictionary defines "wise woman" as a woman considered to be knowledgeable in matters such as herbal healing, magic charms, or other traditional lore. That is the kind of woman I envision using this apothecary cabinet.
She would keep all of her herbs and other ingredients in well labeled, tightly covered, glass jars so nothing would be misplaced or misused.
She would have lots of books, scrolls, and papers to fill up those two large drawers, and yes, sometimes, to leave stacked on the worktop. Her mortar and pestle would be well used and perhaps a bit dented.
And note: Teri has included a tutorial on how she made the open book (with a teal blue bookmark) on top of her work table, using pages and covers from her own Tiny Little Grimoires Collage Sheet.
OK… back to the Giveaway! I picked out a bunch of cool items that Teri used in her project (click here to see photos of her entire supply list, but only the ones listed below are in the Giveaway).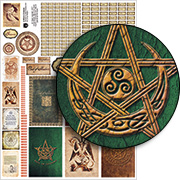 – 10mm Square Glass Bottle with Lid (see below… 3 of them are on the top shelf of the hutch)
– 12mm Wooden Drawer Pull or Box Feet
– Storage Hutch – NEW
– 4 Inch Wide Chest of Drawers – 2 Drawers – NEW
– A Witch's Grimoire Collage Sheet (for all those tiny labels on the bottles)
– Even Tinier Bottles (yes, a set of 6, and you may want more if you try to reproduce this artwork)
– Mini Cigar Box Set (on top of the hutch… again, see below)
– Miniature Brown Paper Boxes Collage Sheet – NEW (also on the top of the hutch)
– Tiny Little Grimoires Collage Sheet (so you can follow along with the tutorial)
– Tiny Resin Skull Mix (Teri used them as drawer pulls!)
To enter the Wise Woman's Giveaway drawing all you have to do is leave a comment BELOW on this blog post TODAY OR TOMORROW (the deadline is 11:59 pm PST, FRIDAY, July 14, 2017)!
And tell me: What will you make? An apothecary cabinet? A mini version of a bookcase (or craft supply cabinet) in your house? Something else?
Don't forget to leave your (hello! correct) email address, too, so I can contact the winner; your email address does not need to be made public. Note: I'm offering free shipping, too, but only within the USA. International shipping will still apply.
Please be patient! Spammers try to post crap here a lot so comments are moderated. So if you don't see your post in the comments section, be patient and check back in a few hours before re-posting it, please!
After midnight, I'll randomly pick the winner (via Random.org). So check your mailbox on Sunday morning to see who won and for the next Giveaway and Newsletter!
Hey, who won the Half Scale 2-Story House Giveaway? Phoebe Diamond! (Who commented: "I think that I would make a bordello. For some reason the idea appeals.") Congratulations! Check your email for more info.

Posted by Leslie, July 13th, 2017