A new sale! EVERYTHING in the 1:12 Scale Can & Bottle Blanks section is on sale for 25% off!
The sale ends Monday night, July 10th!
That includes bottles Teri Calia used in her Pocket Grimoire last Sunday! Like the White Resin Condiment Bottle, Amber Resin Potions Bottle and Miniature Tequila Bottle shown at left.
And the sale also includes a new quart bottle announced today (photo & info below)!

Oh! I love the beautiful sepia and turquoise palette (and the whole shrine!) that Design Team Member Nichola Battilana made with the Arched Shrine Shadowbox!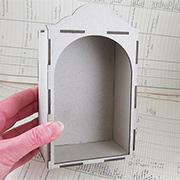 From the story on Nichola's blog post:
Once upon a time a gentleman dove deep, deep, deep under the sea.
Where he met his true love.
Her frock covered all of her mermaiden parts so he did not know if she she had a swishy fishy tale beneath her skirts. And she refused to show him. She was a lady after all!
They married under the sea horse arch with glittery shells and baubles…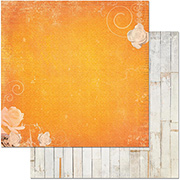 I'm going to jump in here and explain a few things Nichola used AND NOTE: everything in Nichola's supply list is included in today's Giveaway!
– Orange Petals & Wood Planks Scrapbook Paper (you may not have guessed that the back side with the whitewashed planks is the paper on the inside of the shrine)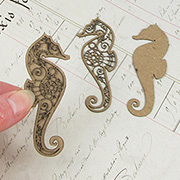 – Mini Steampunk Seahorse – Set of 2 (they look so beautiful colored light turquoise and covered in crystal glitter!)
– Seashells in Plastic Tin (also looking lovely and jewel-like with tons of glitter added… see the close-up on bottom right)

And, of course, the Arched Shrine Shadowbox and Stairstep Shrine Base that are the structure for the shrine.
Read more of Nichola's story of love under the sea, and see more lovely photos. Don't forget to return to see the new items, new FREE gift, and enter the Giveaway!

Iridescent Star Ice Mix
FREE Gift Kit!
New FREE gift — through Monday night, July 10th!
With Nichola's lovely shrine, it only seems fitting to have some sparkly, iridescent beads, micro beads & sequins mixed into this gift! And contained in a corked glass bottle, with a bit of turquoise blue baker's twine to tie a bow!
For ALL orders:
– a Mini Inkwell Bottle,
– turquoise blue baker's twine (a custom item, not available on the site), and
– a mix of sparkly things, including 5mm Clear Iridescent Star Sequins and 1mm Micro Beads – Clear AB!


Hooray for the Tale of the Merpeople Giveaway!
Yep, I've already mentioned that ALL 10 ITEMS in Nichola's supply list are in the Giveaway! (See some highlights up by the photos of Nichola's artwork, or click here to see photos of her entire supply list.)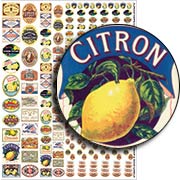 Plus, I'm adding a few more items:
– Mini Aluminum Beer Cans – New
– Vintage Beer & Soda Labels Collage Sheet (so you'll have some alternate labels to put on those cans)
– White Resin Quart Bottle – New
– Vintage Pantry Labels Half Sheet (for some label options for that quart bottle, and for the next item…)
– 3/8 Inch Wooden Cube Blocks – New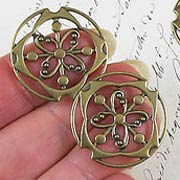 – Sparrows Compass Brass Link (Back in Stock!)
To enter the Tale of the Merpeople Giveaway drawing all you have to do is leave a comment BELOW on this blog post TODAY OR TOMORROW (the deadline is 11:59 pm PST, FRIDAY, July 7, 2017)!
And tell me: A tale of underwater love? Another scene with mermaids in your shrine?
Don't forget to leave your (hello! correct) email address, too, so I can contact the winner; your email address does not need to be made public. Note: I'm offering free shipping, too, but only within the USA. International shipping will still apply.
Please be patient! Spammers try to post crap here a lot so comments are moderated. So if you don't see your post in the comments section, be patient and check back in a few hours before re-posting it, please!
After midnight, I'll randomly pick the winner (via Random.org). So check your mailbox on Sunday morning to see who won and for the next Giveaway and Newsletter!
Hey, who won the Matchbox Cabinet Kit Giveaway? Leanna Alverson! Congratulations! Check your email for more info.
Posted by Leslie, July 6th, 2017