Before we look at new artwork, new collage sheets, new summery papers, a new sale and a new kit (!) a reminder about the current sales and FREE kit!

Continuing from Thursday and ENDS MONDAY night:
Bowl of Skulls FREE Gift Kit!
I was inspired by Lora Mahaffey's artwork (with a little bowl of skulls under the table) and put together a skull-filled mini kit!
ALL ORDERS through Monday, June 5th (2017) will receive a FREE Gift Kit!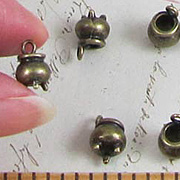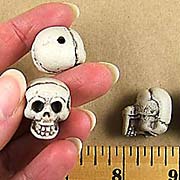 Also continuing from Thursday: TWO sales!
ALL Halloween Beads & Halloween Charms are on sale for 40% off! The sale also ends Monday night (June 5, 2017).
80 to choose from! Like the Resin Skull Beads and Tiny Bronze Cauldron Charms (and all the skulls in the gift kit).
See all the Halloween Beads and Halloween Charms.
What's that about a new sale?! Read on!


NEW Mermaid Paper Doll Kit
Paper dolls! Who doesn't like playing with paper dolls… especially with some cool, watercolor-y papers and new trims. Perfect for summer and with a mermaids theme!
This kit includes 2 new 12″ x 12″ scrapbook papers (with aqua blue waves and bubbles… and a whale wearing a crown)!
And, of course, a paper doll: a chipboard mermaid paper doll set to make an articulated mermaid. Note: the 2 new collage sheets in the kit also fit a slightly larger paper doll set that's available to buy separately: but the mermaids are close enough in size that most of the heads/tails on the collage sheets will fit either (note: this smaller set can be folded up to fit in an ATC pocket).
The collage sheets have a bunch of full-color heads that fit the mermaids (and some tails, too, in case you want to use the chipboard torso and arms with a different tail). I figured that using paper or paint to decorate the mermaid's tail would be easy but that a face/head and maybe a shell hat/tiara might be something needed to make a quick doll.
Speaking of tiaras… the new Mermaid Tails & Tentacles Collage Sheet has an oddity: I made a head with a "rum bottles and tentacles" halo. Even if you don't want to use the halo, there are lots of octopuses and tentacles (for a mermaid scene, or to make your own "tentacles as hair" kind of thing).
Plus this kit includes some trims:
– New Gold Dresden Shell Border Strips (a mini set of 5 strips). Psst: if you don't want a shiny gold border, these can be antiqued, too… but mermaids are like magpies, right? Yours may want some shiny shells.
– New Gold Mini Star Brads (a set of 10… ample to put a paper doll together, or use them as decor; note the photo above at left showing one used as a decoration on a crown)
– Seashell Sequin Mix. An ever-popular item. See Shannon Cooper's artwork at right for some shells decorating a crown and scattered around the sea floor.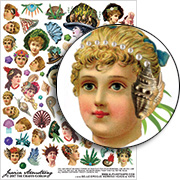 And in honor of this new kit: ALL Bathing Beauties, Beach, Mermaids Collage Sheets are on sale for 50% off! Now through Wednesday night, June 7, 2017. That's a big section with over 50 sheets! And that sale includes the new collage sheets, too!
Artwork! For Want of Legs by Design Team Member Shannon Cooper (see the wide photo below, another down in the Giveaway section, and the photo at right). I love this little book… 2 books in 1, as there are 2 books stitched into the accordion-folded cover. More info, more photos and a tutorial in Shannon's blog post and/or see her supply list.
More info and photos about the new kit are on the Mermaid Paper Doll Kit page. And coordinating new supplies are below.


Hooray for the Mermaid Paper Doll Kit Giveaway!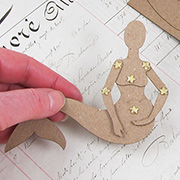 Let's start with THE NEW KIT! That includes 2 new collage sheets, 2 sheets of scrapbook paper, and the chipboard paper doll, sequin seashells, dresden & star brads!
New Articulated Mermaid Paper Doll (the larger paper doll set with more options)!
Next: some (more) items from Shannon's supply list:
– Risque Beauties Collage Sheet
– Roman Goddesses Collage Sheet
– Coral Chipboard Set – 4 pieces
– The Sea Fiber Set
– Stitched Leaf Ribbon Green
– New Etched Mini Book Covers – Ship (don't you love how Shannon painted it for her book's cover?)

AND finally: Black Iris Beaded Fringe — on clearance (as are a lot of new goodies… check out the newest sale items or all the clearance items).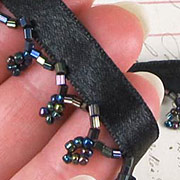 To enter the Mermaid Paper Doll Kit Giveaway drawing all you have to do is leave a comment BELOW on this blog post TODAY OR TOMORROW (the deadline is 11:59 pm PST, MONDAY, June 5, 2017)!
AND tell me: How will you decorate your paper doll? And where will you put her?
Don't forget to leave your (hello! correct) email address, too, so I can contact the winner; your email address does not need to be made public. Note: I'm offering free shipping, too, but only within the USA. International shipping will still apply.
Please be patient! Spammers try to post crap here a lot so comments are moderated. So if you don't see your post in the comments section, be patient and check back in a few hours before re-posting it, please!
After midnight, I'll randomly pick the winner (via Random.org). So check your mailbox on Thursday morning to see who won and for the next Giveaway and Newsletter!
Hey, who won The Poison Room Giveaway from Thursday's newsletter? That would be Megan Warren! Congrats! Check your email for info.
Posted by Leslie, June 4th, 2017