New FREE GIFT with All Orders through Monday, June 5th!
Bowl of Skulls FREE Gift Kit! I was inspired by Lora Mahaffey's new artwork (see the little bowl of skulls under the table?), and put together this skull-filled mini kit!
It includes (of course) a little wooden bowl (also used in Lora's artwork), plus all of these skulls (like a sampler pack of small skulls!):
– Tiny White Turquoise Skull Bead (in Lora's art, too)
– Small Resin Skull Bead
– White Turquoise Skull Beads – 12mm (the larger one in the bowl)
– 3D Skull Charm – Bronze
– 5/8 Inch Bronze Skull & Bones Charm
FREE with All Orders through Monday, June 5th! Psst! See next paragraph (all of the skulls in the gift kit are on sale!)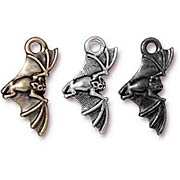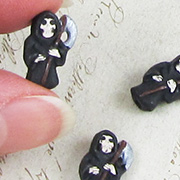 TWO Related Sales!
ALL Halloween Beads & Halloween Charms are on sale for 40% off!
The sale ends MONDAY night, June 5th!
80 to choose from! Like the Bat Charms and Ceramic Grim Reaper Beads shown.
Halloween Beads
Halloween Charms


I love seeing all the projects the Design Team has been making with the Small Frame Shadowboxes. And Design Team Member Lora Mahaffey's The Poison Room is no exception!
Lora has a zillion tiny things inside that tiny shadowbox. And a great story about her project. AND a tutorial on how to make that custom bookshelf that's at the top of the "room".
Last year I read a number of books by Alan Bradley in a series called the 'Flavia deLuce Mysteries'. Clever, witty books written with a precocious child as the main character. At an early age Flavia discovered her great uncle's forgotten old poisons laboratory at the top of the huge crumbling family estate. By the time she was 12 she was putting poison ivy oil in her older (and beastly) sisters lipstick and solving crimes with Scotland Yards finest.
This little 'Poison Room' was inspired by Mr. Bradley's snarky pre-teen heroine, Miss Flavia deLuce.
Looks like someone is not the best housekeeper and who doesn't need a large economy-sized bottle of Chloroform?!
And all the hand written journals on Venom, Toxins, Acids on the shelf above… some excellent bedtime reading.
And what about the slightly creepy skeleton guy peeking around the corner? Is that the mastermind? An experiment gone wrong? Or just some really skinny Boo Radley type hanging out in his favorite room…
Read more (and see more photos, and that shelf tutorial!) in Lora's blog post. And scroll down to enter the Giveaway drawing and you could win lots of items from Lora's supply list.


Hooray for the The Poison Room Giveaway!

So many tiny things to choose from! I decided to concentrate on this small area to pick out what is included in today's Giveaway:
– Bronze Teacup & Saucer Charm (a poisoned cup of tea?)
– Corked Vials (Set of 9!)
– Little Potions Collage Sheet
– Tiny Magic Books & Potion Labels Collage Sheet
– Mini Mason Jars – Set of 3
– Pewter Measuring Spoons
– Simple 1:24 Table
– Tiny Wooden Flower Pot
– Set of Miniature Books
Just click on this Supply List link for photos and links to everything in Lora's artwork, which will show you the subset in the Giveaway!
Bonus: I'm including one of the new Vintage Fluff Clear Jars, as I think they'd be a good size match for the items Lora used!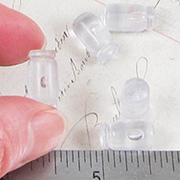 And I'm also including one of the Bowl of Skulls FREE Gift Kits! (Psst! It includes one of the Tiny Wooden Bowls AND Tiny White Turquoise Skull Beads Lora used in her artwork.)
To enter The Poison Room Giveaway drawing all you have to do is leave a comment BELOW on this blog post TODAY OR TOMORROW (the deadline is 11:59 pm PST, FRIDAY, June 2, 2017)!
And tell me: What will you make with the goodies in the prize? And what will you add that's not included?
Don't forget to leave your (hello! correct) email address, too, so I can contact the winner; your email address does not need to be made public. Note: I'm offering free shipping, too, but only within the USA. International shipping will still apply.
Please be patient! Spammers try to post crap here a lot so comments are moderated. So if you don't see your post in the comments section, be patient and check back in a few hours before re-posting it, please!
After midnight, I'll randomly pick the winner (via Random.org). So check your mailbox on Sunday morning to see who won and for the next Giveaway and Newsletter (and JUNE KIT)!
Hey, who won the Parfumerie Shadowbox Giveaway? That would be Shera Paramore! Congratulations! Check your email for more info.
Posted by Leslie, June 1st, 2017