Ooo! What a great little 1:12 scale table for a wizard's office. The finished size is just 5-7/8″ wide x 3-1/8″ deep 2-1/4″ tall. (If that little photo below of me holding one wasn't there, I bet you'd think Teri's artwork at right was much larger!) Note the double trestle base, and the extra wings to give the gryphons more dimension.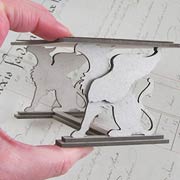 As Summer nears I always start thinking about Halloween because I love making creepy, spooky, magical and/or fantastical art. So, a couple of months ago, I started designing a Dragon Table that sort of morphed into the Gryphon Table you see here. The table is really easy to glue together and would be fabulous in a Medieval dungeon as well as in a modern library.
I painted my table black and dry brushed white over the top to add a bit of depth and interest. I also used four mushroom plugs as feet to give the table more height. The table comes with a thin chipboard "veneer" that glues onto the top that I chose to cover with a great distressed paper from the Tim Holtz Materialize 8×8 Paper Stash pad.
Check out Teri's blog post for more info and photos. And scroll down to enter the Giveaway drawing and you could win lots of goodies from Teri's supply list!

More New Supplies! – ALL on Sale!


Wooden 3-Step Shelves
Hooray for the Wizard's Table Giveaway!
Wow! I think Teri put every 1:12 scale bottle we carry on top of that wee table! I've picked out a few things from Teri's A Wizard's Potion Making Table Supply List to included in today's Giveaway:

– Well, of course, I have to start with the Gryphon Table!
– Spell Book Box Extras Collage Sheet (used for labels… especially on those boxes of supplies on and under the table)

– Black Gesso – 1 Ounce Bottle –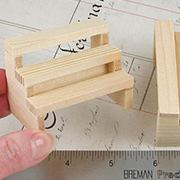 – Wooden 3-Step Shelves (I wouldn't have recognized it under all the bottles and the Black Gesso)
– Tiny Scalloped Fleur Dresden Borders (Teri used just a tiny strip to glue to the front of the shelves before painting them… adds some texture and vintage detail)
– 1/4 Inch Wooden Mushroom Plugs (feet under the table)
– Mini Green Shaving Tonic Bottle (over to the right of the skull… the tallest bottle on the top shelf — with a new label added)
– Krylon Gold Leafing Pen (perfect for adding a little "foiling" to the tops of all those bottles)
– Cast Metal Skull – White (looks great with the bit of paint Teri added)
– Mini Black Cauldron (kinda front & center on top of the table)
Just click on this Supply List link for photos and links to everything in Teri's artwork, so you can see photos of the subset in this Giveaway!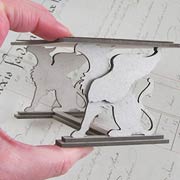 And I'm also including one of the Wizard Potions FREE Mini Kits! (Psst! It includes 3 more things Teri used in her artwork: 12x8mm Amber Glass Rectangular Beads, 12x8mm Clear Glass Rectangular Beads, and a Ghoulish Green Mini Resin Jar)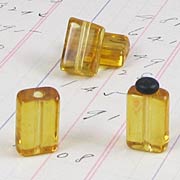 To enter the Wizard's Table Giveaway drawing all you have to do is leave a comment BELOW on this blog post TODAY OR TOMORROW (the deadline is 11:59 pm PST, FRIDAY, May 19, 2017)!
And tell me: What will you make with your Gryphon Table?
Don't forget to leave your (hello! correct) email address, too, so I can contact the winner; your email address does not need to be made public. Note: I'm offering free shipping, too, but only within the USA. International shipping will still apply.
Please be patient! Spammers try to post crap here a lot so comments are moderated. So if you don't see your post in the comments section, be patient and check back in a few hours before re-posting it, please!
After midnight, I'll randomly pick the winner (via Random.org). So check your mailbox on Sunday morning to see who won and for the next Giveaway and Newsletter!
Hey, who won the Tiny Room of Hodgepodgery Giveaway? That would be Jean Marshall! Congratulations! Check your email for more info.
Posted by Leslie, May 18th, 2017