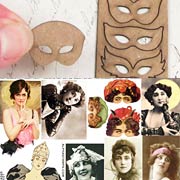 NEW Mini Masks FREE Gift Kit! In honor of the new Tiny Mask Set (and artwork below from 2 Design Team Members using the larger masks from the same designs) I put together a mini mask set AND a collage sheet with ladies sized to fit the masks!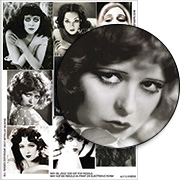 ALL ORDERS on Thursday through Sunday, March 23rd through 26th (2017) will receive one of these collage sheets and the mini set of 4 laser-cut masks FREE! More info
A BIG NEW SALE: Inspired by the Art Deco babes in Laura Carson's artwork, ALL Art Deco Collage Sheets are 50% off! Over 50 sheets — and the sale includes the new Vixens Collage Sheet by Laura! The sale ends MONDAY night, March 27th at midnight PST (March 27, 2017). See below for a few highlights!

What? 1/2 off shipping! YES! Now through Friday night (March 24, 2017) shipping will only cost $2.95 for orders over $50! That's TOMORROW night! Plus shipping is always free on orders over $100! (Both prices for orders only in the USA.)

So much fun artwork today! Let's start with Laura's Masked Beauties – Overlapping Gatefold Album! That stunning image at right is just one page from the album!
Once again I have a mask themed project for you. I've created 8 different masks that are showcased on lovely ladies from the twenties which you can find on a new Vixens Collage Sheet.
And to show off the masked beauties, I've constructed a Art Deco style gatefold album with a bit of a twist. Because of the shape of the cover, the pages are attached at a slight angle with each page overlapping the next. Art Deco style is all about geometric shapes which I mimicked by using three different metallic Dresden borders, paper and thin line stripe tape. Because of their geometric shape, brass seashells also add to the Art Deco feel of the book.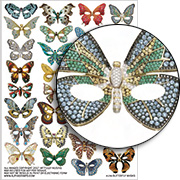 Thankfully, Laura has provided the template for this shaped album in her blog post!
Laura also created (another) new Butterfly Masks Collage Sheet that she uses throughout this project!
More info in Laura's blog and/or see her supply list. And check out the Giveaway below to win supplies to make a project like Laura's!


On to more artwork! Design Team Member Caroline Ouzts-Hay has created a trio of masks with the large size masks in 2 new mask sets. (Just showing 2 of her 3 creations here, but check out Caroline's blog for lots more photos and details.)
My artwork suffers from a mild case of multiple personality disorder, so I've made not one mask but three.
I went to town with the liquid pearls on this one. I used Mermaid and White Opal here, but I must have one of every color. So scrumptious! To get a more even colored look I painted the chipboard diamonds & feathers before applying the liquid pearl in coordinating colors. You don't want chipboard brown showing through.

(On the pink and black mask) the silver bit at the top is a decorative metal piece that I coated in silver gilding flakes. Just paint on some of the adhesive and then place the silver leaf down working it into all the little nooks and crannies.
Here's a link to Caroline's Supply List (for all 3 masks).
Next up: Kristin Batsel's The Arches of Mardi Gras!
Did you ever just get a weird idea and decide to run with it? Here's what happened to me when I got the March kit from Alpha Stamps. I fell in love with the color of the G45 papers and the images on the Costumes Collage Sheet. The arches seemed like the perfect place to host a costume ball, and what do you know? A slew of Mardi Gras babies decided to crash the party!
I love the babies that edge the tops of all 3 of the panels of the Taj Mahal Triptych! Read more about the project, and see more photos in Kristin's blog post. And here's her supply list.


Hooray for the Masked Beauties Giveaway!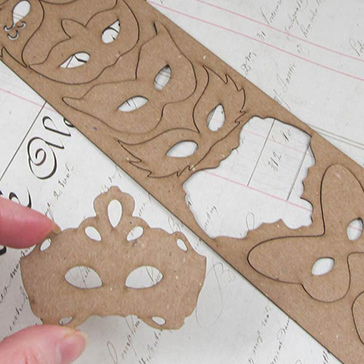 I didn't even point out that Laura used the medium-sized set of new chipboard masks in her layered Art Deco album! So that's the first item in this Giveaway package!
All of these items from Laura's artwork are also in the Giveaway package: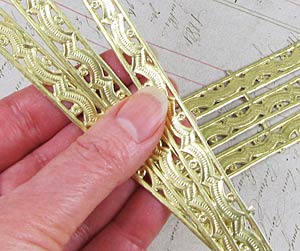 – Gold Dresden Langette Borders
– Vixens Collage Sheet – New!
– Butterfly Masks Collage Sheet – New!
– Tiny Mixed Sizes Pearl Cabochons – Just put on clearance!
– Brass Feathery Scroll Filigree
Here is Laura's Masked Beauties – Overlapping Gatefold Album supply list (Psst! That link is to the supply list, with photos and links to all of the goodies Laura used, including the subset in this Giveaway.)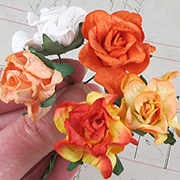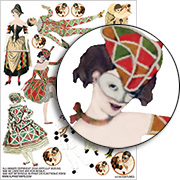 PLUS I'm including these flowers & collage sheet from Kristin's artwork:
– Costumes Collage Sheet
– Gardenias – Mixed Cream Yellow Orange
AND one of the Mini Masks FREE Gift Kits!

To enter the Masked Beauties Giveaway drawing all you have to do is leave a comment BELOW on this blog post TODAY OR TOMORROW (the deadline is 11:59 pm PST, FRIDAY, March 24, 2017)!
And tell me: What inspires you most today? Art Deco sale? Chipboard masks? Shaped album? Crazy babies?

Don't forget to leave your (hello! correct) email address, too, so I can contact the winner; your email address does not need to be made public. Note: I'm offering free shipping, too, but only within the USA. International shipping will still apply.
Please be patient! Spammers try to post crap here a lot so comments are moderated. So if you don't see your post in the comments section, be patient and check back in a few hours before re-posting it, please!
After midnight, I'll randomly pick the winner (via Random.org). So check your mailbox on Sunday morning to see who won and for the next Giveaway and Newsletter!
Hey, who won the The Seraglio plus a Spring Frame Giveaway? That would be cat! Congratulations! Check your email for more info.
Posted by Leslie, March 23rd, 2017