Design Team Member Laura Carson has created a crazy colorful project: Midnight Masquerade – Girls Just Want To Have Fun! And not only is there a related new sale, but there's a related new FREE Gift Kit!
NEW Carnival Iridescent Glass FREE Bead Mix! These kits are FREE for ALL orders, now through MONDAY night, March 20th, 2017 (or until the kits are gone)! Beautiful beads including Czech glass leaves and flowers! Lots of blues, purples, greens… see the wide photo below!
A BIG NEW SALE: Inspired by all the bling in Laura's artwork: ALL Misc Beads and Flower/Leaves Beads are 50% off! Tons of pretty things: glass Czech beads! Over 150 items! The sale ends MONDAY night, March 20th at midnight PST (March 20, 2017). See below for a few highlights!


On to the artwork! Wow! Laura's colorful creation started with the Midnight Masquerade papers (from the Beauty and the Beast Kit) and the Taj Mahal Triptych!
The scene depicts costumed masked ladies reveling the night away; who wouldn't want to go to this party!
I think my favorites are the metal masks which are decorated with paint, (new!) rhinestones, glass glitter and feathers and the colorful steamers made from a high quality double sided dual color heavy weight crepe paper that can be stretched (not the thin kind you buy in rolls for parties).
(See close-ups of 2 of the decorated metal masks above right and below.)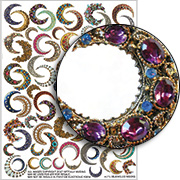 Laura also created a new Bejeweled Moons Collage Sheet that she used in this project!
More info in Laura's blog and/or see her supply list.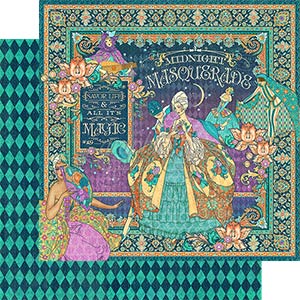 Hooray for the Girls Just Want To Have Fun Giveaway!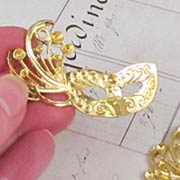 All 12 of these items from Laura's artwork are in the Giveaway package:
ALL of the metal masks:
– Embossed Gold Mask with Feathers
– Large Fancy Silver Mask Charm
– Silver Cateye Mask Charm
– Small Silver Mask Charms with Dots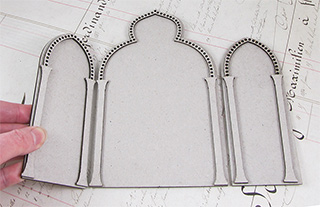 ALL of the chipboard:
– Taj Mahal Triptych
– 6×6 Diamonds Texture Sheet
– Chipboard Fleur Border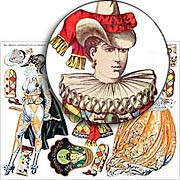 ALL of these papers & collage sheets:
– The Secret Collage Sheet
– Pierrette Collage Sheet
– Bejeweled Moons Collage Sheet
– Heavy Crepe Paper Sampler Set
– Midnight Masquerade Scrapbook Paper
Here is Laura's Midnight Masquerade – Girls Just Want To Have Fun supply list (Psst! That link is to the supply list, with photos and links to all of the goodies Laura used, including the subset in this Giveaway.)
Plus one of the Carnival Iridescent Glass FREE Bead Mixes!
To enter the Girls Just Want To Have Fun Giveaway drawing all you have to do is leave a comment BELOW on this blog post TODAY OR TOMORROW (the deadline is 11:59 pm PST, FRIDAY, March 17, 2017)!
And tell me: Which item in the Giveaway will you use first? On what project?
Don't forget to leave your (hello! correct) email address, too, so I can contact the winner; your email address does not need to be made public. Note: I'm offering free shipping, too, but only within the USA. International shipping will still apply.
Please be patient! Spammers try to post crap here a lot so comments are moderated. So if you don't see your post in the comments section, be patient and check back in a few hours before re-posting it, please!
After midnight, I'll randomly pick the winner (via Random.org). So check your mailbox on Sunday morning to see who won and for the next Giveaway and Newsletter!
Hey, who won the Big Red Circus Wagon Giveaway? That would be francine perri! Congratulations! Check your email for more info.
Posted by Leslie, March 16th, 2017