We have a wonderfully textured piece today by Teri Calia: Nature Encroaches, a mixed media canvas!
(And if all that rust and moss isn't your thing… see below for TWO humorous takes on Cinderella's coach!)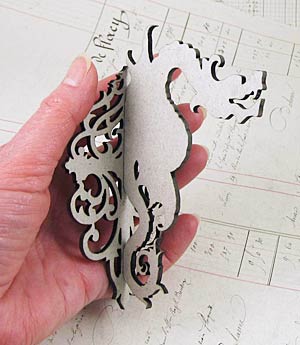 I love what Teri has done here; so many layers and natural textures of rocks, water, rust and moss (and handmade mushrooms). Bravo!
This all started with the new heavy chipboard Dragon Sconce shown at left (and look how it has been transformed)!
Teri does a great job of showing all the layers and steps she took to build up her textures in her blog post. (Psst… check below too, as there's a new FREE Gift Kit that includes some of the items Teri used.)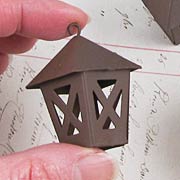 And RUST. Don't forget the rusted patina (more than a flat patina… this dragon (and lantern) have a dimensional rusted patina). Teri used the Finnabair Art Extravagence Rust Paste Set and says, "I love this stuff because it allows you to create realistic rust without the use of harsh chemicals."
Ok… enough of me babbling. Go see more photos and steps on Teri's blog. And see all her supplies. (And come back and enter the Giveaway, too.)

A NEW SALE: ALL Paper Flowers (and leaves… moss… botanicals) are on sale for 30% off (including things like the twigs & moss in Teri's artwork)! The sale ends FRIDAY night at midnight PST (March 3, 2017). That's a big section: 150 items! And it includes the recent new mulberry paper flowers from Thailand! Go see 'em all!

On to more artwork! Design Team Members Rhonda Secrist Thomas and Lora Mahaffey have each made a fun version of the Cinderella Coach Album:
Rhonda's If Cats Ruled is the perfect book for the cat lover in your life. Or yourself. Or your cats?
Rhonda has made the entire album with characters from the 2 Louis Wain Cat Paper Dolls Collage Sheets (and a few other images of Cinderella with cat or lion heads added to their bodies). Adorable!

"I just received a huge box of vintage lace and beaded trims while I was in the process of considering what embellishments I wanted to add. Talk about perfect timing." Wow… I think we need a field trip to go shopping in Rhonda's craft room!
Visit Rhonda's blog post to see lots more photos. And here's a link to all her supplies.
Next up: Lora's It's All About the Shoes! I love what's she done (using Copic pens to amp up the color of the image from the Cinderella Pining Collage Sheet… and of course: that thought bubble)!
"And the girl was rocking the most awesome pair of shoes in fairy tale history and she goes and loses one running down the steps at the royal palace! That is harsh.
She does end up okay in the end.
She gets her shoe back.
That is the important thing, right?"
Read more witty prose, and see more photos in Lora's blog post. And here's her supply list.

Nature Encroaches FREE Mini Kit! Inspired by Teri's amazing Nature Encroaches Canvas, this mini kit contains mossy, rusty elements to start your own collage or canvas.
This kit includes rusty wire (binding a little whiskbroom-like cut from a Twig Vine Garland), a glass bottle filled with Leafy Green Underbrush, a red mushroom, and a few more trinkets — all wrapped up in a bit of vintage sewing pattern tissue (check out Teri's blog post… she uses similar tissue as the base layer on her canvas).
Plus an exclusive Mushrooms Collage Sheet designed by Teri, just for this kit!
The mini kit is FREE for all orders over $20!
There's nothing you need to do (no coupon to enter). TODAY through Saturday night, March 4th (midnight PST) (March 2-4, 2017), or until the kits are gone, we'll include a free kit in all qualifying orders!
AND everybody gets the Mushrooms collage sheet in their order, no matter the size of order!
Read more about it on the Nature Encroaches Mini Kit page.



Hooray for the Dragon and Coach Giveaway!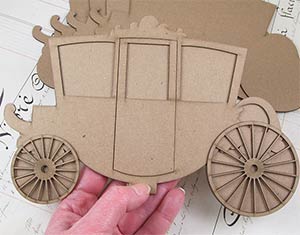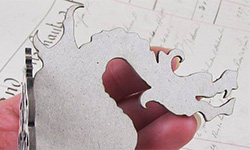 I just let my eyes wander over the 3 supply lists for today's lovely projects, and here's where my gaze landed (yes, all 9 of these items are in the Giveaway package):
– Dragon Sconce
– Faux Plaster Ceiling Molding Strip (did you see it? running up the right side of Teri's canvas)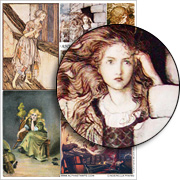 – Leafy Green Underbrush
– Cinderella Coach Album
– Cinderella Pining Collage Sheet
– Serendipity Anticipation Scrapbook Paper
– Wain Fairy Tale Cat Paper Dolls Collage Sheet
– More Wain Cat Paper Dolls Collage Sheet
– Midnight #1 Collage Sheet
I'm also including one of the new Nature Encroaches Mini Kits!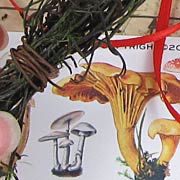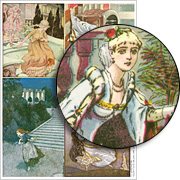 To enter the Dragon and Coach Giveaway drawing all you have to do is leave a comment BELOW on this blog post TODAY OR TOMORROW (the deadline is 11:59 pm PST, FRIDAY, March 3, 2017)!
And tell me: What will you use first: coach album or dragon sconce? And how will you decorate it?
Don't forget to leave your (hello! correct) email address, too, so I can contact the winner; your email address does not need to be made public. Note: I'm offering free shipping, too, but only within the USA. International shipping will still apply.
Please be patient! Spammers try to post crap here a lot so comments are moderated. So if you don't see your post in the comments section, be patient and check back in a few hours before re-posting it, please!
After midnight, I'll randomly pick the winner (via Random.org). So check your mailbox on Sunday morning to see who won and for the next Giveaway and Newsletter!
Hey, who won the Aldraths Academy Giveaway? That would be Karen Mallory! Congratulations! Check your email for more info.
Posted by Leslie, March 2nd, 2017