Wow! Today we not only have the cutest Cat Book with Paper Dolls you will ever see (by Design Team Member Shannon Cooper) but a related FLASH SALE, and a FREE Gift Kit, too!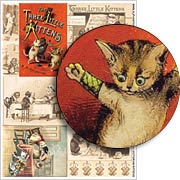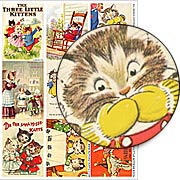 First (and this has been needed for a long time): A Cats & Kittens Collage Sheets Section! There have been some collage sheets begging (in the most dignified, cat-like way) to be brought together in one group. (Plus there are 2 new cat paper doll collage sheets being announced today!) And so much easier to put them ON SALE when they're in one place!
ALL Cats & Kittens Collage Sheets are On Sale at 50% off! (So the new collage sheets are also on sale at 50% off!) Examples shown here are the 3 Little Kittens ATCs and Victorian Kittens Collage Sheets.
The sale ends Saturday night, February 18th at midnight PST! See 'em all! Over 20 options!

What? A new FREE Gift Kit! With all the cat goings-on today, it seems time for a Cute Kitties Charms & Buttons FREE Gift Kit.
The set includes 1 each of all of these cute kitties:
– Bronze Lucky Cat Charms
– Cute Bronze Cat Charms
– Big Eye Anime Cat Buttons
– Black Cat with Stripes Buttons
– Painted Cat Head Buttons
– Tiny Cat Head with Bow Buttons
These mini kits are FREE for ALL orders, now through SATURDAY NIGHT, February 18, 2017!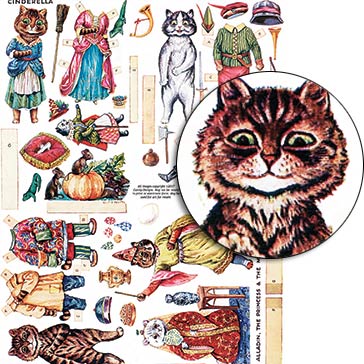 I LOVE this tiny little book with envelope pages that Shannon has made! (See below for a wide photo showing how the pages fold out for a background for the paper dolls.) She doesn't even take credit for making the book itself in her blog post, but she emailed me: The cover is heavy weight cardboard. I just covered it with paper from the Spell Book Box Covers Collage Sheet and sanded it, inked it. stuck an accordion fold on the spine and glued in the envies.
Here's a teaser (and some witty prose) from her post: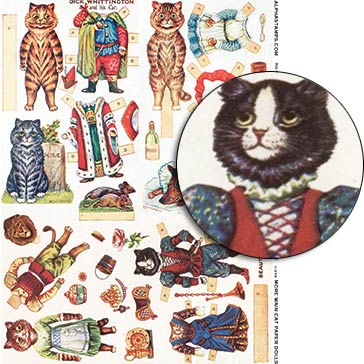 Paper toys delight me like nothing else. Airplanes, pop-ups, the "cootie catcher" every kid in grade school folded and played with, jumping jacks, and paper dolls…I love all of that. When I saw the new Wain Cat Paper Doll collage sheet, I knew I had to get my paws on them! The sheet I used features Cinderella, Aladdin, the Princess, and the Magician, and Robin Hood, but there is also More Wain Cat Paper Dolls with Beauty and the Beast, Little Red Riding Hood, and Dick Whittington. Louis Wain's illustrations of anthropomorphic cats are fun all by themselves, but then to have the added pleasure of dressing and accessorizing these big-eyed kitties? Well, that's the cat's pajamas!
By the way, there are more images of cats drawn by Louis Wain on these collage sheets.
Inside the book are three envelopes, one for each story, and in the back are two removable backgrounds that can be unfolded. The backgrounds are also reversible for maximum playability. Here is the middle envelope opened up with Aladdin and the Princess ready to entertain. The tuxedo kitty on the front is attached with a brad so her head can be swiveled inside the book's cover.
Shannon is so clever, like attaching the kitty head so it can swivel out of the way, inside the front cover. And I thought she had repurposed some old book covers, but she made the little book inself, too.
AND she provides a tutorial so you can make envelope pages to fit the paper dolls!
Read more in Shannon's blog post and see everything she used to create her fun artwork in her supply list! PLUS check below for a chance to win EVERYTHING in her supply list!


Hooray for the Cat Tales Paper Dolls Giveaway!

Yes, I said it! EVERYTHING in Shannon's Cat Tales Paper Dolls Book Supply List is included in today's Giveaway!
I'm only highlighting 4 of the 9 items in the supply list/Giveaway:
– New Wain Fairy Tale Cat Paper Dolls Collage Sheet
– Tales of You & Me Jardin de Fleurs Scrapbook Paper (such a pretty design)
– Spell Book Box Covers Collage Sheet (perfect for making faux vintage book covers)
– Cat Faces Collage Sheet (for that tuxedo kitty on the front)
See photos and links of everything from Shannon's project (which is also what's in this Giveaway) in her supply list.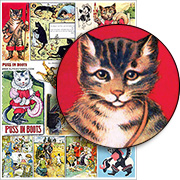 Oh, yes: I'm also including the new More Wain Cat Paper Dolls Collage Sheet (for even more cat paper doll options).
And one of the Colorful Puss in Boots Collage Sheets, from the 50% off Cats & Kittens Sale!
AND I'm including one of the Cute Kitties Charms & Buttons Gift Kits (the FREE gift on offer for all orders through Saturday night)!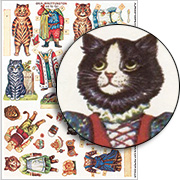 To enter the Cat Tales Paper Dolls Giveaway drawing all you have to do is leave a comment BELOW on this blog post TODAY OR TOMORROW (the deadline is 11:59 pm PST, FRIDAY, February 17, 2017)!
And tell me: Will you make a little book to hold your cat paper dolls? Or what other clever gift would you make from a similar little envelope book?
Don't forget to leave your (hello! correct) email address, too, so I can contact the winner; your email address does not need to be made public. Note: I'm offering free shipping, too, but only within the USA. International shipping will still apply.
Please be patient! Spammers try to post crap here a lot so comments are moderated. So if you don't see your post in the comments section, be patient and check back in a few hours before re-posting it, please!
After midnight, I'll randomly pick the winner (via Random.org). So check your mailbox on Sunday morning to see who won and for the next Giveaway and Newsletter!
Hey, who won the Fairy Tale Trio Giveaway? That would be Kimberly! Congratulations! Check your email for more info.
Posted by Leslie, February 16th, 2017