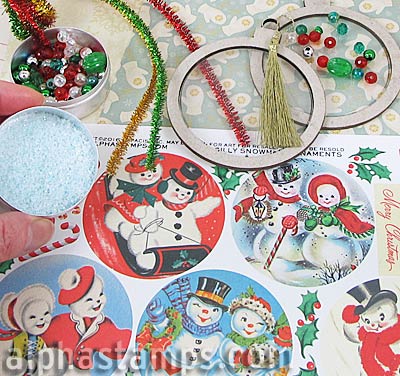 Ooo! Did you see the adorable ornaments that Design Team Member Nichola Battilana made? (See below.) Super cute and super easy (and she used metallic pipe cleaners around the edges like tinsel). She inspired me to put together this Silly Snowmen Ornaments Mini Kit!
My kit has a brand new mini collage sheet with 5 round images sized to fit the Chipboard Ornament Layers (and one of those chipboard/plastic dome sets is included too)! I can't resist these retro snowmen (and snowwomen)! It's odd, now when I see snowmen I expect them to have dimples and blush.
The kit also includes
– A Metallic Gold Tassel (speaking of tassels, Design Team Member Rhonda Secrist Thomas has made some beautiful ornaments with tassels and baubles — also see some of them below).
– Winter Snow Glitter Mix (so you have some snow to shake around in your ornaments)
– A baggie of mixed red, green, silver & clear iridescent beads
– A 6″ x 6″ sheet of mittens scrapbook paper (with snowflakes on the flipside)
– And red, green and gold pipe cleaners.
FREE GIFT! All orders over $24 on Sunday and Monday, December 11-12 (2016) will receive one of these kits FREE! Please note: do NOT add this kit to your order or you will be charged for it (unless, you would like to purchase an additional kit). The FREE KIT will automatically be added to all qualifying orders so you do not need to do anything special. Note: All digital orders will receive a high-res pdf file of the new mini collage sheet! Thanks!

As promised! These are such sweet and nostalgic ornaments by Nichola. And pretty, did I say pretty? All the things Christmas should be!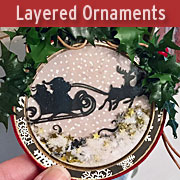 "This month Alpha Stamps is offering Round Layered Ornaments Kits. They are pretty dang cute. I've actually done two* versions of these (you'll see the second batch next week).
"*Maybe even three if I get my act together.
"Pretty cute, no?! If you had told me a few years ago I'd be all about the glittery pipe cleaners (and yes, they will forever be pipe cleaners to me) I would have told you, you were nuts… but here we are all glittery and pipecleanerish!
"Not only do these sweeties shake and make a lovely noise, are two sided to boot!
"I'm smitten!"
And here's all the goodies to make your own:
Round Chipboard Ornament Layers Sets
Snowy Winter Day Ornaments Collage Sheet
Silver Snowflake Charm Set
Winter Snow Glitter Mix
Round Ornaments Ribbon Set
Read more (and see more photos) in Nichola's blog post.


Next up: a flurry of ornaments by Rhonda!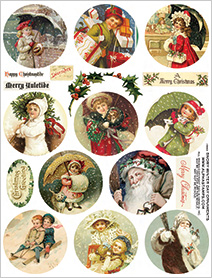 "I absolutely adore the new Round Layered Ornaments Kit! Especially since I can give them some extra magic by using these silhouette layers inside. They look so beautiful with the glowing Christmas lights.
"The set comes with 2 heavy chipboard outer rings, 2 clear plastic domes, and a
die-cut (lighter weight chipboard) silhouetted insert to sandwich in the middle
of your ornament. You can also use seasonal papers for a two sided ornament, images from collage sheets (like I did using Snowy Winter Day Ornaments Collage Sheet) or even family photos. Imagine all the possibilities!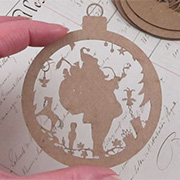 "The ornaments can also be little shakers full of snow and reindeer food, candies and magical gems.
Note: the mini candy canes and slices of peppermint polymer cane are creative items for adding to shake around! Good thing they're not actually sugar (so won't get caught in Santa's beard!)
And making curly ribbons from the Glass Christmas Seed Bead Garland is another creative idea. Nice job, Rhonda!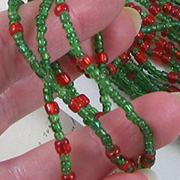 Read more (and see lots more photos) in Rhonda's blog post. And here's her Supply List.


Hooray for the Double Kits Giveaway!

For today's Giveaway, I mainly chose kits (the new Silly Snowmen Ornaments Mini Kit AND the Round Layered Ornaments Kit). That's a ton of collage sheets & trims to make ornaments!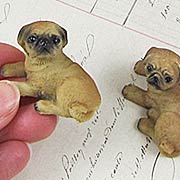 I say "mainly" as you also get your choice of one of the 3 new miniature dogs as part of the prize! I added this extra goodie in honor of the 25% off SALE on ALL Miniature Pets/Animals, now through tomorrow night, MONDAY, December 12th! Beside the cute Pug at left, you can choose from the German Shepherd Puppy and Border Collie shown above.


To enter the Double Kits Giveaway drawing all you have to do is leave a comment BELOW on this blog post TODAY OR TOMORROW (the deadline is 11:59 pm PST, MONDAY, December 12, 2016)! And tell me: How will you decorate your ornaments? AND which of those doggies do you like best?
Don't forget to leave your (hello! correct) email address, too, so I can contact the winner; your email address does not need to be made public. Note: I'm offering free shipping, too, but only within the USA. International shipping will still apply.
Please be patient! Spammers try to post crap here a lot so comments are moderated. So if you don't see your post in the comments section, be patient and check back in a few hours before re-posting it, please!
After midnight, I'll randomly pick the winner (via Random.org). So check your mailbox on Thursday morning to see who won and for the next Giveaway and Newsletter!
Hey, who won the A Holiday Feast Giveaway? That would be Aggie Stiefer! Congratulations! Check your email for more info.
Posted by Leslie, December 11th, 2016