What's New Today? ATC Bookcase!
Design Team Member Laura Carson has made a beautiful bookcase to house ATC books — and also shows it repurposed as a secretary for your stationery. Plus a sweet Christmas cake using the Chipboard House Ornament Kit and a nostalgic wall hanging!

Wow! This is such a lovely piece! Laura's Regency Christmas Themed ATC Bookcase uses the new ATC Bookcase with the Vintage Christmas Scrapbook Papers (and her new collage sheets) to create a pretty desktop bookcase that you'll want to keep for yourself (though it would also be a fabulous gift).
"Tis the season to be jolly and I'm kicking things off with a versatile bookcase project. I say versatile, because this has so many possibilities. Since we are in the height of the holiday season I decided to go with a regency period Christmas theme because the regency period is my favorite; it's a Jane Austen thing. The generous side and back areas were perfect for creating scenes using my four new holiday collage sheets.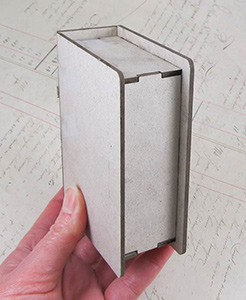 "This bookcase just happens to be perfect for storing and displaying ATCs. The books you see displayed in the cabinet are ATC sized and I've used them in a variety of ways. One book is a accordion folded book displaying ATCs, one contains a stack of ATCs and one is a shadow box book."
Read more about all those different books, tips for assembling the bookcase (and see lots more photos) in Laura's blog post. And here's her Supply List.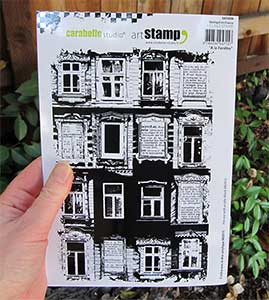 Next up: a sweet project featuring a new stamp, by Design Team Member Rhonda Secrist Thomas: A Vintage Christmas Wall Hanging! (See the wide photo below.)
The new At The Window Cling Stamp is one large background image. I love the red embossed image Rhonda made with it!
"Here's an idea for a detailed and beautiful large stamp. With a huge love of all things vintage, (buttons, lace, keys, etc), it can be easy to create a piece of art that can be hung on the wall to admire or give as a gift.
"With the holidays upon us, I included an open window to show Santa busy at work inside. But I can close him back up so I can enjoy this all year long, if my heart so desires.
"I love vintage Frozen Charlotte dolls. This one is real, as I have been collecting and hoarding them for many years, but luckily Alpha Stamps carries both a Resin Baby Doll Set and Tim Holtz Salvaged Dolls set."
Be sure to check out Rhonda's blog post. And here's her Supply List.


Hooray for the A Holiday Feast Giveaway!
Just look at that flurry of Christmas cheer! That piece by Betsy Skagen is called A holiday feast for the eyes – and no impact on your thighs (!), and though lots of the goodies decorating it are vintage pieces from Betsy's stash, there are still quite a few trims (and that house at the top) available. See more photos on Betsy's blog post, too!
Check out Betsy's supply list!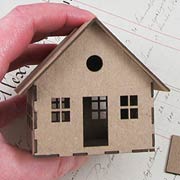 We've had lots of ideas from the Design Team of decorations to make using the House Ornament, from bright and festive to gingerbread to dreadful (even a second one by Betsy). How will you decorate yours?
Posted by Leslie, December 8th, 2016