Halloween Theme Section SALE (20% to 50% off! Yes! Tons of Halloween goodies (285 items!): scrapbook papers, ribbons, chipboard shapes, charms, beads, stencils, Dresden borders, stickers…) To give you a chance to stock up for the swap, this section will stay on sale through TOMORROW, September 19th (that is the same date as the deadline to sign up for the swap — see below).
Note: that includes some recent additions to this section, like the Chipboard Gothic Chandeliers and the Silver Crescent Moon Dimensional Stickers!

Chipboard Reliquaries Swap!
A reminder about our current swap… and swap samples at right by Design Team Member Nichola Battilana! I love these! So simple yet so creepy! Mainly just the Miniature Reliquaries, Latin Stone Scrapbook Paper, and images from the Skeleton Slide Mailers and Skull & Bones Collage Sheets. And a bit more, from Nichola's blog post:
I've added loads of black Dresden snippets, and some teeny weeny 'crystals', dots normally used for decorating finger nails.
Nice job, Nichola!
Sign up for the swap by TOMORROW, September 19th. And you could win $100 of Art Supplies from Alpha Stamps! Learn more. And see more samples by the Design Team in the Gallery!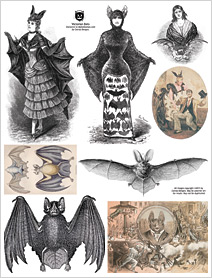 Now we have two delightful tombs with Victorian babes, by Design Team Member Kristin Batsel! (See the wide photo below.)
First up: Temperence. She gets bored sitting at home, so she loves to decorate the crypts in the nearby cemetery. Here she's placed several carved pumpkins around the base of the crypt, and is busy stringing up some smaller jack o'lanterns to hang as lanterns. It's dusk, and she's evidently disturbed a few bats, who fly around her head.
To help Temperence stand out, I used adhesive foam tape to attach her to the crypt. The columns and the black vines also help to give this piece a 3D look.
Here's Temperence's younger sister, Auroria. She's known as a bit of a flibbertigibbet. Somehow, she's managed to open the spiderweb gate and gain admission to the interior of this crypt. She hasn't got a care in the world, running around with her glowing jack o'lantern and her three skully balloons. I hope that rat doesn't bite her. That sucker is huge!
Good job, Kristin! Read more, and see more photos on Kristin's blog post, and see her full Supply List. Psst! Check below, too, 'cause EVERYTHING in Kristin's supply list is included in today's GIVEAWAY!


Hooray for the Play Amongst the Crypts Giveaway!
Today's Giveaway includes everything in Kristin's Temperence and Auroria Play Amongst the Crypts Supply List! Woo hoo! Not only all the goodies on Auroria's tomb (shown at right), but also the tomb, background paper, number 31 metal sign (and many more numbers), columns, skulls, pumpkins, and black leaves from her sister Temperence's tomb!
Just click on this Supply List link for photos and links to everything in Kristin's artwork (17 items!), which is also what's in the Giveaway!
AND as I've just put them on Clearance Sale: One of the Glass Parfait Cups! I can see some bubbling green witchy brew in one of these for a Halloween scene.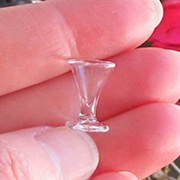 To enter the Play Amongst the Crypts Giveaway drawing all you have to do is leave a comment BELOW on this blog post TODAY OR TOMORROW (the deadline is 11:59 pm PST, MONDAY NIGHT, September 19, 2016). And tell me: How will you decorate your 2 Tombs?

Don't forget to leave your (hello! correct) email address, too, so I can contact the winner; your email address does not need to be made public. Note: I'm offering free shipping, too, but only within the USA. International shipping will still apply.
Please be patient! Spammers try to post crap here a lot so comments are moderated. So if you don't see your post in the comments section, be patient and check back in a few hours before re-posting it, please!
After midnight, I'll randomly pick the winner (via Random.org). So check your mailbox on Thursday morning to see who won and for the next Giveaway and Newsletter!
Hey, who won Mini Apothecary Giveaway? That would be Bonita Knepp! Congratulations! Check your email for more info.
Posted by Leslie, September 18th, 2016