We are thrilled to have Jessica Armstrong as our Guest Designer this month. Jessica is an amazing artist specializing in miniatures and prop reproductions for video games and movies.
"I'm a film school graduate, miniature artist and geek girl from Canada. I work under the name 'The Crafty Goblin' where I make messy scenes in various scales of miniature along with anything else that catches my fancy at the time. I'm highly influenced by horror, fantasy and science fiction, as well as by historical events. I like things messy, rusty, old and hauntingly beautiful and I like to show that in my work. Also, I am always looking for new ways to age and distress my creations.
"In my spare time, if I have any, I play video games, Dungeon and Dragons as well as board games with my husband."
Inspired by the Beneath the Sea Kit theme, Jessica created a fantasmical scene from Jules Verne's 20,000 Leagues Under the Sea; with a steampunk twist!

"The Nautilus — a submarine of fantastic proportions. 20,000 Leagues Under the Sea was first imagined by Jules Verne in his epic novel and re-imagined in the 1954 film of the same name.
"During the scene where the giant octopus is attacking the submarine, I took my chance — a scene of agitated disorder ripe for the picking!"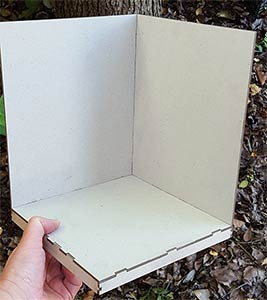 We're so glad she took the chance, as it turned out Captain Nemo's Organ Room is most magnificent! I love how the everything is caught midway in the process of being tossed and fro, and teetering here and there by the giant octopus.
There is a lot to take in, and I can't possibly point out everything but there are a couple of things that I will. First, Jessica started with the new 7×7 Corner Room Box. This is similar to the Corner Room Box, however this version is slightly taller (so the walls above the platform are 8″ tall) and deeper (7″ x 7″ platform).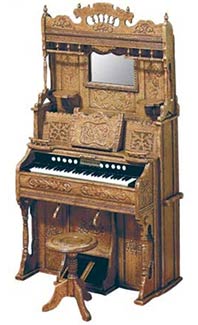 The organ in the scene is pretty phenomenal, don't you think? It's actually a Parlour Organ that Jessica left the top part off of and she replaced it with gold organ pipes. The Organ is painted black, and highlighted it with gold on the raised edges.
See more of the Captain Nemo's Organ Room Supply List.
Visit Jessica's Blog for more photos and details.
Collage sheets designed by Jessica are under the name The Crafty Goblin.
Posted by MizBella, July 10th, 2016