It's day THREE of this holiday weekend sale… and today we have new artwork by Nichola AND a new FREE gift kit, both about Matchboxes and Under the Sea.
Note: as this is a holiday weekend: FREE shipping on orders over $50 (for orders shipping to USA) now through Tuesday, July 5th. Plus there are extra newsletters & free gifts this holiday weekend, so stay tuned… one more BIG newsletter with new goodies tomorrow!
Today's new FREE GIFT! Note: this one is for orders placed TODAY and TOMORROW ONLY (July 2-3, 2016). The Matchbox Nautical Clock FREE Gift Kit includes an exclusive collage sheet, graciously provided by Laura Carson, plus goodies to make a mini clock from a matchbox! These kits are FREE for ALL orders! See more photos.


Design Team Member Nichola Battilana has made a beautiful shrine (and smaller than you might think) with the new Tiny Matchbox Theatre, mixed with papers and charms from the Beneath the Sea Kit.
I love these new little theatres! Tiny little chipboard shadowboxes with a wrap-around cover like a matchbox. Now I'll let Nichola talk, as she speaks so eloquently (that girl must be part fairy… or sea nymph):
Some people have sea water in their blood. They love the sea like I love the moon. While those waters may not run quite so deeply for me, I appreciate the beauty of the barnacled. For Alpha Stamps this month I've made a matchbox shrine full of texture and unwater colours.
The base of this piece is a Tiny Matchbox Theatre. I do love theatres (and an underwater one would be amazing!) but instead chose to make mine into a sort of underwater pocket shrine.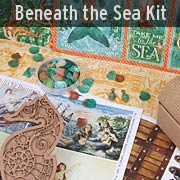 Aside: I so want to see an underater theatre by Nichola!
Now about that texture! I've glued pieces of a 6×6 Gears Texture Sheet to the surface of the box and splashed and sploshed paint and gesso and whatever else was on hand. I also layered some Seashell Sequin Mix which give a sort of wonderful fish scale texture. The sentiment on the front is from Voyage Beneath the Sea – Steampunk Splash Scrapbook Paper which I've simply tinted to match the colour of my box. A Brass Patina Seahorse Charm and Conch Shell Charms then a dash of crusty glitter (because why not) and the front is complete.

See all the goodies in the Under the Sea Matchbox Shrine Supply List. Visit Nichola's blog for more photos and details.

A reminder: There is no new Giveaway today, but the Sea of Wonders Treasure Chest Giveaway drawing announced Thursday is still open! To enter the drawing or see photos see this blog post. And comment TODAY (the deadline is 11:59 pm PST, Saturday, July 2, 2016)! And tell me: What treasures will you hide inside your Treasure Chest? And check back tomorrow for a new Giveaway!

Posted by Leslie, July 2nd, 2016